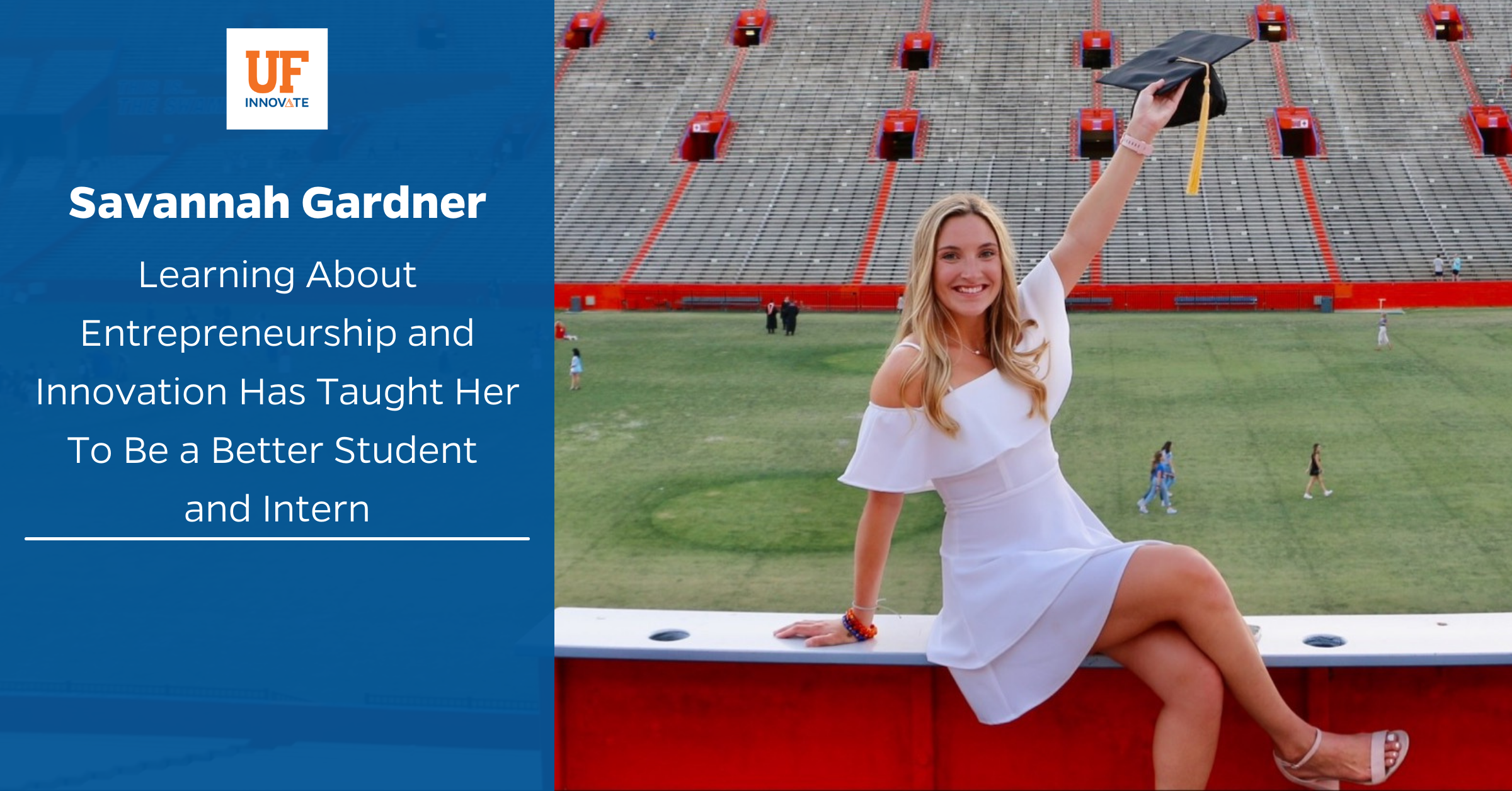 Learning About Entrepreneurship and Innovation Has Taught Her To Be a Better Student and Intern
Working with UF Innovate for over a year now has taught me so much about entrepreneurship, hard work, networking, and social media management. When I started working as a social media intern in January 2020, I had never taken the skills I learned in the classroom and applied them to real life. At the University of Florida, I learned about social media planning and video production, but this experience has allowed me to take my knowledge and put it to the test!
Every morning when I wake up and start working, I learn something new. Managing the social media accounts for UF Innovate | The Hub and UF Innovate | Sid Martin Biotech has allowed me to learn about new technology, business operations, and the exciting advancements and growth in biotechnology every day. I have learned that Gainesville and Alachua are a hub for creativity and collaboration, and the entrepreneurial community is welcoming and supportive.
Business Incubation at the Heart of Greater Gainesville
Not to mention, the companies that reside at The Hub and Sid Martin Biotech are changing the world for the better, right here in Gainesville. I am amazed every single day at the incredible work that each company coming from UF Innovate's incubation program is doing. From developing vaccines to combat the Covid-19 pandemic to sending a high-performance camera into space, our companies at UF Innovate are changing the world.
There is so much value in the network at UF Innovate and the collaborative environment. I am encouraged every day to try new things, think outside of the box, and continue learning. I am invited to attend webinars and events that connect me directly with experts in the field of entrepreneurship, and I always learn from the wisdom of others. The people I have met at UF Innovate have opened doors to many opportunities and experiences that I believe are invaluable.
Overall, this internship has given me practical communications experience, the flexibility to be a successful student and intern, and a better understanding of biotechnology and entrepreneurship. The intern supervisors, Sara Dagen and Veronica Talavera, have always supported me, taught me, and encouraged me throughout my experience. I am so thankful for Sara, Veronica, and the entire UF Innovate staff for the opportunity to grow and learn every day at our #HubSweetHome.
---
Related stories