BioFlorida Honors Three Members from Alachua County
BioFlorida's 2019 annual conference was a virtual BioAlachua, with three of the organization's four honors awarded to members from Alachua County. Mark Long of UF Innovate, Jeff Tate of Cyclo Therapeutics, and Tamara Mandell of UF Biotility received commendations.
Mark Long, who leads both UF Innovate | Sid Martin Biotech and The Hub, received the BioFlorida Lifetime Achievement Award. The award recognized Long for his outstanding leadership throughout his career that has significantly contributed to the growth of the industry.
"Mark is not just an expert and a mentor and a resource for the state," said Valerie McDevitt, who led tech transfer efforts at the University of South Florida for 18 years before joining AdventHealth recently as a senior director. "Mark wrote the book. He's written many of the resources that all of us in the field relied upon for many years."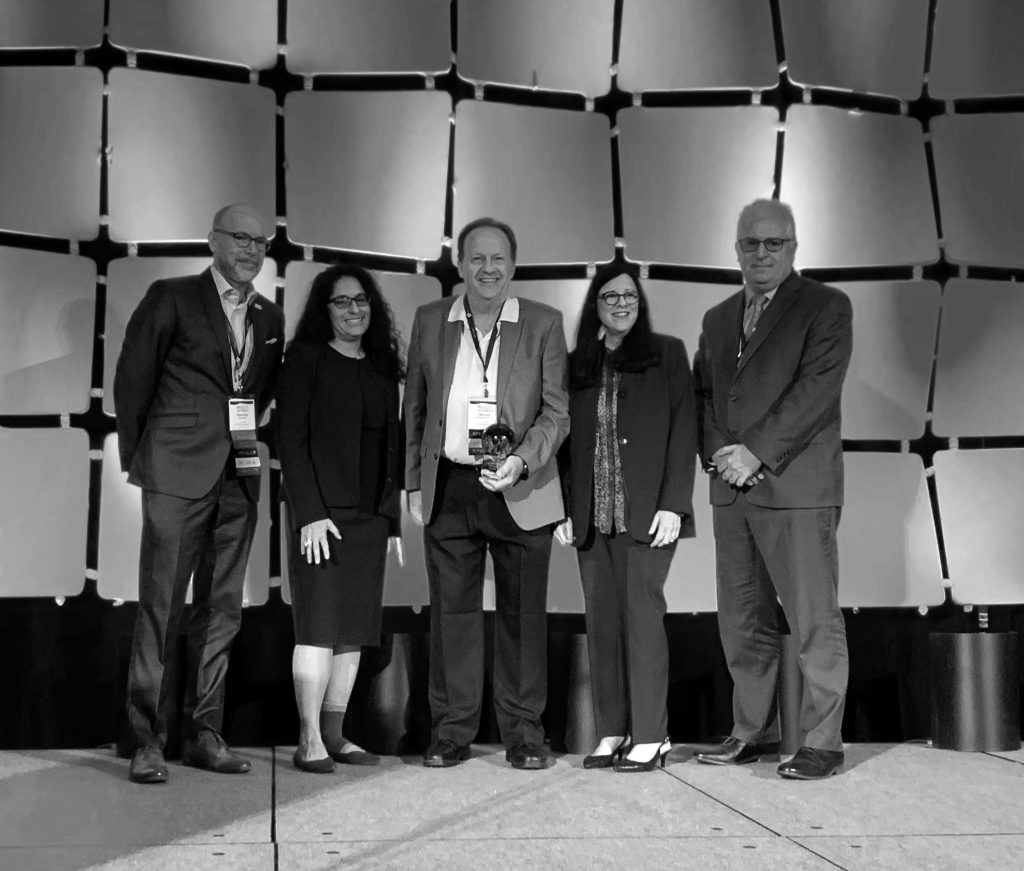 In his more than 25 years in business incubation and technology transfer, Long has led efforts at the Indiana University Research and Technology Corporation, the Midwest Proton Radiotherapy Institute, the Washington University in St. Louis, and other ventures before joining UF in 2016.
"There was a collective cheer across the state when we realized somebody of Mark's caliber was coming to the state of Florida and coming to the University of Florida to turn their incubation system," McDevitt said before she invited Long to the podium. "He's distinguished himself as truly a team player, and he's always willing to share his insights."
Long shared his insights on the award itself.
"I've heard they keep giving you Lifetime Achievement Awards to get you to retire," he said. "I'm not ready for that. We have more work to do… I'm sure many of you will be up here someday getting a Lifetime Achievement Award. But don't retire. Keep at it."
In addition to directing both UF business incubators, Long is working on the Gainesville Innovation District downtown, along with Jim O'Connell, the assistant vice president of commercialization who oversees all of UF Innovate.
Tate of Cyclo Therapeutics received the Weaver H. Gaines Entrepreneur of the Year Award, which honors an individual who has made extraordinary contributions to the growth of Florida's life science industry in biotech, pharma, med tech or bioagriculture. (The award is named in honor of Weaver Gaines, a Gainesville icon and one of the founding directors of BioFlorida.)
Cyclo Therapeutics, located in Alachua County, is a clinical-stage biotechnology company developing cyclodestrin-based products for the treatment of disease. Tate is chief operating officer and chief quality officer for the company.
Tamara Mandel of UF Biotility and Jane Teague of the Institute for Commercialization of Florida Technology received the BioFlorida Leadership Award. The award recognizes a BioFlorida volunteer who has taken on a leadership role within the organization and acted as an ambassador to BioFlorida and the industry.
BioFlorida represents more than 6,000 establishments and research organizations in the biopharmaceuticals, medical technology, health IT, and bioagricultural sectors that employ nearly 100,000 Floridians. More than 400 representatives of those sectors attended the annual conference held in Tampa Oct. 20-22.
---
By Sara Dagen, Marketing & Communications Manager, UF Innovate
---
Media contact:
Sara Dagen, (352) 294-0998, saradagen@ufl.edu