Jackson Streeter to Direct UF Innovate | Ventures
In March of 2019, Brammer Bio, a University of Florida spinout company, sold for $1.7 billion to Thermo Fisher Scientific. The story of Brammer is a model of how UF can foster commercialization of research, and UF Innovate | Ventures plans to do just that.
"Our hope is that with the new Ventures group and director, we can either find or create the next 10 Brammers," said Jim O'Connell, assistant vice president of commercialization at UF and director of UF Innovate | Tech Licensing.
Ventures, the newest member of the UF Innovate quartet, seeks to fuel consistent growth in the number and quality of technology-based startup companies licensing university technologies. UF Innovate established Ventures and equipped it with a $1 million venture fund for fiscal year 2019, an Entrepreneurs in Residence program, and an able director, Dr. Jackson Streeter.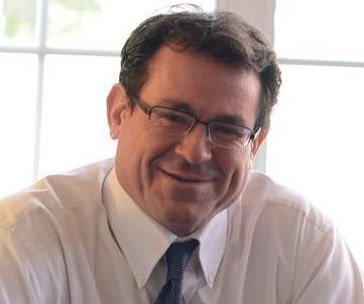 Streeter comes to Ventures as an inventor of more than 20 patented technologies, as the founder and CEO of multiple startup companies, including UF startup Banyan Biomarkers, and as the CEO and executive director of the Florida Technology Seed Capital Fund. In addition, he was the first naval flight surgeon selected as a Top Gun staff instructor in the U.S. Navy.
"Jackson has experience gained while working with the Florida Institute, operational experience with several companies, including Banyan Biomarkers from UF, and so much more," said O'Connell. "He has a well-connected network as a result, and he has the ability to go out, ID those companies with potential, and get the VCs (venture capitalists) behind them.
"A lot of startups that go to market underfunded will never reach their full potential in job creation and bringing investment to Florida," O'Connell continued. "We've got to improve on that."
Ventures, under Streeter's leadership, will find opportunities in the university technologies, use the Entrepreneurs in Residence (EIR) program to get those technologies into the hands of capable entrepreneurs, and find the capital to move the companies forward with an eye toward the success of Brammer.
"UF Innovate will facilitate the growth of quality startups and see university research make a positive difference in the world," said Streeter. "Supporting our startups with funding plus the leadership of EIRs around the state should enable us to produce more and more Brammers."
Brammer Bio can trace its start to a $10 million Florida grant UF received in 2003 to contribute to the state's biotech initiative. Using that grant, UF purchased two buildings in Progress Park in Alachua. One housed a Good Manufacturing Processes (GMPs) operation, called Florida Biologix, and the other became an education center, called Biotility. Both went live in 2006.
Advancements in the cell and gene therapy fields coincided with the start of Florida Biologix and drove increasing demand for the biopharmaceuticals it provided. So the university spun out the company in 2015, to Ampersand Capital Partners, a private equity firm in Massachusetts, for $7.6 million. In 2016, the company merged with Massachusetts-based Brammer Biopharmaceuticals to become Brammer Bio.
"This was textbook technology transfer," said Dr. David Norton, vice president of research at UF. "We used the state's $10 million investment to nurture this idea until it was commercially viable, adding hundreds of skilled jobs. Then we negotiated multiple deals that led to this $1.7 billion acquisition."   
Brammer, still located in Alachua's Progress Park, created close to 325 biotech jobs that have had an incredible impact on the economy. It is the model of what a relatively small investment by the university can become.
---
By Sara Dagen, Marketing & Communications Manager, UF Innovate
---
UF Innovate | Ventures is the newest member of the UF Innovate quartet that includes Tech Licensing and two business incubators, Sid Martin Biotech and The Hub. Ventures seeks to fuel consistent growth in the number and quality of technology-based startup companies coming out of the University of Florida. It supports startups by developing entrepreneurs, connecting companies to potential investors, and making equity investments.
Media contact:
Sara Dagen, (352) 294-0998, saradagen@ufl.edu