As Director of UF Innovate's Incubation Services, Mark Long 'Got Stuff Done'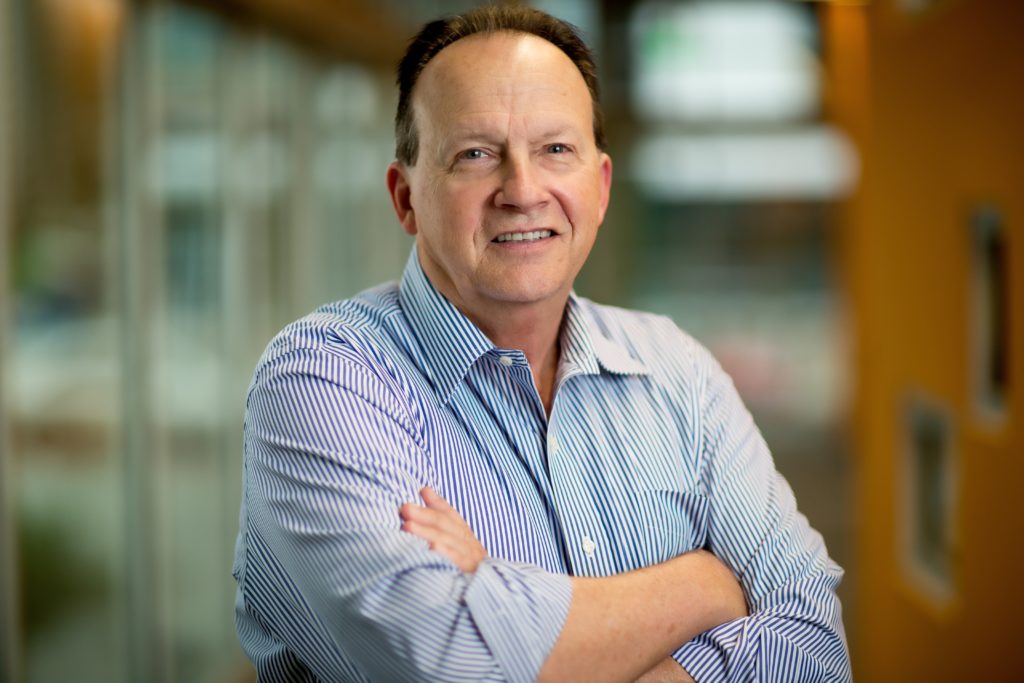 UF Innovate is saying goodbye to the man who wrote the book on business incubation. Mark Long, the author of several such books, has directed UF Innovate's two business incubators, Sid Martin Biotech and The Hub, since January 2016. He will retire on June 30.
"Mark's positive, 'get stuff done' attitude – along with his customer-service approach – has kept both facilities at 100 percent occupancy and made the program 'the hub' for entrepreneurship in North Central Florida it was intended to be," said Jim O'Connell, assistant vice president of commercialization for the University of Florida and leader of UF Innovate. "He has been a unifying force in the local community and a literal 'standing on top of the desk' cheerleader for 3rd Thursdays at The Hub."
The goal of business incubation
Like the monthly networking gathering for entrepreneurs hosted by The Hub, the goal of the incubation programs has been to benefit the entire entrepreneurial ecosystem in Alachua County, not just provide a better chance of success for resident client companies. (The more than 230 alumni companies have demonstrated an 84 percent success rate.) Startups that graduate often remain in the area and contribute to the local and state economies. The entrepreneurs who lead them become integral to the innovation community in Alachua and Gainesville.
"We've had some good graduates," Long said. "You don't often get a company like Lacerta that not only graduates in less than two years but builds their own building, in this community. But that's one piece of direct evidence of jobs created new tax revenue, new employment, new companies to the area.
"That's the real function of incubators," he said. "We're supposed to create what most people call 'churn.' Companies coming in with one or two people, then growing under the mentoring, advisement, networking, love, care and feeding of the incubator. And then they get to the point where they're large enough to move out and establish their own presence, renting or building in the area."
With State of Florida and USDA funds, UF established its first incubator, Sid Martin Biotech, in Progress Park in Alachua in 1995. The Hub, located in between UF and downtown Gainesville, opened in 2011. The award-winning programs provide clients 130,000 square feet in labs, offices, and conference rooms plus $1.5 million in shared biomedical equipment.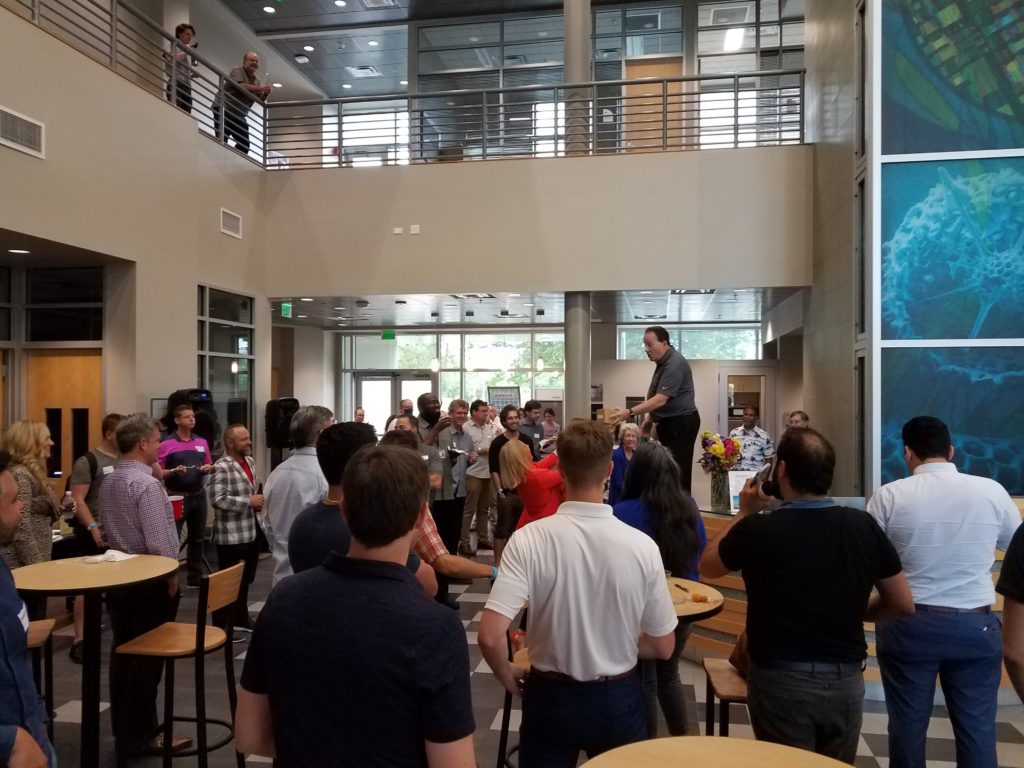 Under Long's leadership, the facilities have both won international awards in incubation from the International Business Incubation Association. The InBIA has named Sid Martin best global incubator three times, twice with Long at the helm. The Hub received the award for best mixed-use incubation program.   
"Mark is leaving Sid Martin and The Hub with a culture of execution and contract. We do what we say; we get things done," said Elliott Welker, interim assistant director at the biotech incubator. "Most incubators in the U.S. have policies inspired by Mark. He has changed how business incubation is practiced in this country for the better."
Recruiting quality companies
When Long became director of Sid Martin Biotech 5 ½ years ago, one company, Syngenta, took up more than half the building. Of course, this worried the new director.
"Everybody said, 'Don't worry! They renew every year,'" Long remembered. "Six weeks after I started, the guy that ran Syngenta came to my office and said, 'We just let everybody go. We're closing down this division. Here's your check for our last two months.'"
And with that brief conversation, Sid Martin was 66 percent empty. Long and former Assistant Director Merrie Shaw, who had worked at the facility for more than a decade at that point, embraced the idea that "one person's problem is another person's opportunity," as Long termed it. The pair worked together to fill the building with quality companies.
"If you've got a life science company, this is an award-winning program. This is the place to be," the two messaged to investors and potential clients. By late summer, the building was at 95 percent occupancy. It has had a waiting list of companies ever since.
In September of 2017, another brief conversation, this time with Dr. David Norton, vice president of UF Research, put Long in charge of a second business incubator, The Hub. He would become the "director of incubation services," directing both Sid Martin and The Hub. The newer, mixed-use incubator was on the verge of doubling in size, and, much as he had inherited a largely empty building in Alachua, Long inherited a new building, completely empty.
"So this became the adventure of being the interim director of The Hub and Sid Martin," Long said, "which by November of 2017 morphed into the permanent director of incubation services. It was a great opportunity to streamline operations and have reciprocity between the two facilities."
When the second half of The Hub opened in January 2018, Long and his team were ready to get the building filled with quality candidates.
The beginning of 'get stuff done'
"We shifted into high gear," he continued. "We started the motto of 'getting stuff done' and focused on doing just that. I focused my efforts on recruitment, retention, and education of the clients. Many of them didn't know where to find money or how to pitch or how to talk to investors."
By December 2018, less than a year after opening The Hub Building II, the building was at capacity.
Long credits his success to his team, both those he led and those who led him.
"My management, Jim O'Connell as the assistant VP of commercialization at UF Innovate and Dr. David Norton as VP of research, are smart in how they manage people," he said. "They realized I knew what I was doing, and they just made sure I had a clear path to success and let me achieve it – with the hard efforts of the staff, the volunteer efforts of the Advisory Board, and with all the amenities UF Innovate had to offer.
"We have every facet of entrepreneurial support that people would require, so we took off, we did well, we filled The Hub. We had a good time doing it. You know, somebody once said 'If work was fun, it wouldn't be called work, it would be called fun.' But it has been fun."
Teamwork did make the dream work
The Hub's interim assistant director Jennifer Harrell agreed.
"We have had a fantastic journey over the past few years, and through it all, we never stopped laughing, having fun, or 'GSD'-ing," Harrell said. "As Mark says, you do not just get 'GSD' swag; you earn it. And that we did, with Mark alongside us every step of the way."
Long is retiring to what he calls a three-page "honey do" list his wife of 42 years has crafted for him, but he has promised to serve on the incubator's advisory boards and return for the area's premiere networking event, 3rd Thursday at The Hub, each month.
Welker points to the vast area surrounding Sid Martin Biotech populated with companies such as Ology Bioservices, Lacerta Therapeutics, AGTC, all expanding into new, additional buildings in Alachua. These and numerous other companies that got their start at the biotech incubator. He knows that companies incubated at The Hub will change the face of the Gainesville Innovation District in the near future as well.
"Mark is always willing to share his wealth of knowledge, experience, triumphs, and failures with the rest of us, and you can see what he's accomplished," Welker said. "I look forward to seeing his influence continue to compound in the coming years."
---
By Sara Dagen, marketing & communications manager, UF Innovate