UF's Sid Martin Biotech Business Incubator Celebrates 25 Years
As one of the first biotech business incubators in the United States, UF Innovate | Sid Martin Biotech has paved the way to success for many startup companies. Sid Martin celebrates its 25th anniversary today and continues to have a timeless impact.
"The 25th anniversary of Sid Martin is a testimonial to business incubation – and it certainly is proof that business incubation works!" shared Mark Long, the director of incubation services at the University of Florida.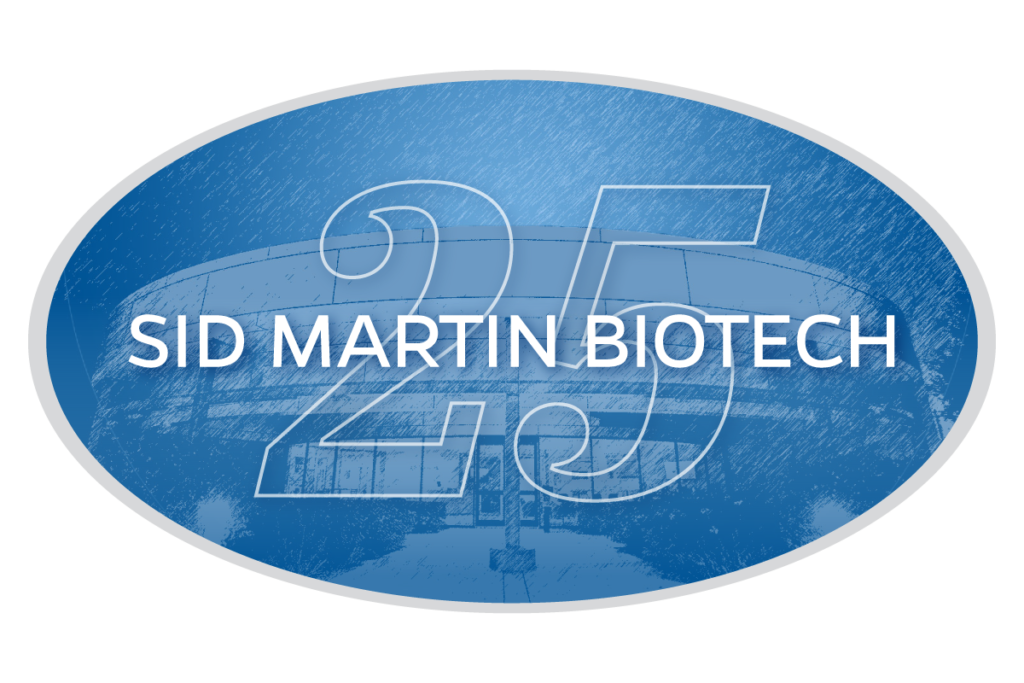 The brainchild of former UF president, Dr. Robert Marston, in partnership with other prominent UF officials, including former interim UF President Dr. E.T. York and former UF IFAS Vice President Dr. Kenneth Tefertiller, Sid Martin Biotech was founded in July 1990 at Progress Park in Alachua, Florida. It was originally named Sid Martin Biotechnology Development Institute.
The Florida Legislature named this facility after Sid Martin, a former member of the Florida House of Representatives, to commemorate his successful career and philanthropy toward UF. In his role in the state legislature, Sid Martin used his connections to advocate for building and funding this facility.
Though biotech incubators were rare at the time, the Florida Legislature saw potential in the industry and wanted to bring it to life, partnering with UF and the U.S. Department of Agriculture to fund Sid Martin Biotech, which opened its doors in 1995.
Through the years, Sid Martin Biotech became home to more than 100 startup companies, notably including Axogen, Sharklet Technologies, and RTI Surgical. All the companies in the Sid Martin program focus on discoveries that "Feed, Fuel, or Heal the World," the incubator's motto. Most start with one or two personnel and very little funding, while others will start with seasoned CEOs at the helm. A few projects even begin with just a scientist and a dream.
The business incubator's success
To this day, Sid Martin Biotech's companies have raised over $9.1 billion in funding and created 8,160 jobs, the majority of which has been achieved within the past 10 years. A total of 112 companies have gone through the program over the past 25 years, with an acquisition rate of 25 percent. The incubator currently serves 18 companies at 100 percent occupancy in its 40,000-square-foot facility.
Assistant Director Merrie Shaw has worked at Sid Martin since 2005 and witnessed its growth over the years. Under her leadership, the facility has been awarded the "Global Incubator of the Year" award in 2013, 2017, and again in 2020, by the International Business Incubator Association. No other facility has received that award even twice.
"Sid Martin has been a passion of mine for the past 15 years," Shaw said. "I'm extremely proud of the companies that have come and gone through our doors and the amazing staff I have had the pleasure to work with."
Shaw noted that Sid Martin had achieved its success over the years through the staff's experience and "trial-and-error" efforts with incoming startup companies. Since it was one of a handful of incubators in the world, the staff worked from the ground up to get where they are today.
"We grew up. We learned what worked and what did not as time passed. Our companies grew up as well. It started with a scientist, an idea, and a lab. Now they mature a little more before entering the program," Shaw said.
Shaw shared that they now ensure the company brings with them seasoned CEOs, funding, and some stability.
Success at Sid Martin Biotech requires perseverance and patience, especially if it takes a little while for a company to get its bearings. Companies sometimes fail and CEOs may come back with a new and improved company.
"Growing a bioscience company is not an easy task," said Shaw. "It's all about learning from your mistakes and moving forward." She emphasized that CEOs with this work ethic make her feel especially proud.
Companies that must go through the FDA approval process tend to stay the longest, as their path is long and arduous. But even a long path or residency in the incubator does not guarantee success.
"One of our successful graduates was in the program for four years. The average is 7 years with the longest being 13 years. That company, however, was acquired for $113 million."
The program fosters success
No matter how difficult it may be, the team at Sid Martin Biotech works tirelessly to support its tenants and foster successes by providing a multitude of resources to allow the startup companies to save every penny possible in their tight budgets.
Sid Martin Biotech features high-quality equipment, such as wet labs, office space, small and large animal facilities, along with two climate-controlled greenhouses. These facilities offer $2.5 million of shared scientific equipment.
Sid Martin also aids in finding finances, venture investment group partnerships, and mentorship with experienced entrepreneurs and advisors.
"We are not landlords who just rent space. Our management team has more experience in incubation than any other incubation system in the country," Shaw said.
Ernest Moyer, former director of Nanotherapeutics, felt having access to the lab space and resources at Sid Martin Biotech gave his company and others a higher advantage than if they were in a commercial space.
Nanotherapeutics was one of the first few tenants of Sid Martin Biotech. Moyer helped manage the company with its technological development using his experience as former CEO of QuadrexHPS, a million-dollar environmental engineering and manufacturing company. Now called Ology Bioservices, Nanotherapeutics graduated from Sid Martin and is now a leading Contract Development and Manufacturing Organization (CDMO).
Startup companies that have worked with Sid Martin Biotech find the collaborative nature of its environment comforting. Moyer felt this way when he worked with his peers during his time at the facility and is grateful for the foundation it provided.
"It was nice to have a neighbor you could commiserate with," Moyer shared. "Having this support structure was important."
"84 percent of our graduate companies were still in business for five or more years post-graduation," said Long, who became Sid Martin's director in 2014. "This is an outstanding success rate and a boon for Alachua County as many of these companies stay here in the county and employ residents."
Sid Martin Biotech is an icon of business incubation success, and Long says it will continue to serve clients – and to expand services and space – in the future. As the facility wins awards and gains more international credibility, Sid Martin is getting more and more applications for lab space. Long and Shaw hope to see new lab and office spaces built in the next few years.
"It's fantastic to see the volunteers, our expert staff and our client entrepreneurs working together at Sid Martin, helping biotech/biomedical firms advance and prosper in their markets," said Long. "I've poured my heart and soul into the programs and efforts at Sid Martin, and so it's extremely gratifying to see the continued success of Sid Martin!"
---
More about Sid Martin here: Two CEOs from Sid Martin Biotech companies share the impact the facility has had on their business.
---
Written by Denielle Smith, former marketing intern at UF Innovate | Tech Licensing. Denielle graduated with a bachelor's degree in biomedical engineering from the University of Florida and started her master's program at Cornell in September.