Sid Martin Biotech Bids Long-Time Leader Merrie Shaw Goodbye
Shaw leaves behind a successful program and even more successful companies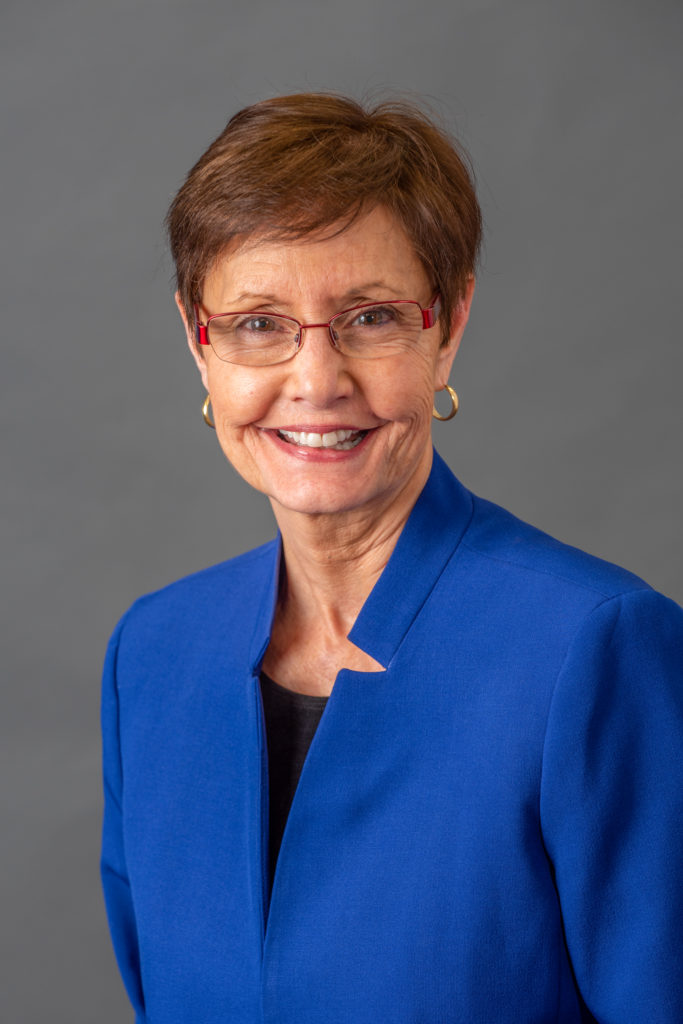 Thirty days after Merrie Shaw started working as a part-time receptionist at UF Innovate | Sid Martin Biotech, then-Director Patti Breedlove told her, "You're not going anywhere. I'm not letting you leave." 
Shaw was happy to stay as Breedlove's full-time fiscal assistant, then incubator manager, and, eventually, the assistant director to Mark Long, who replaced Breedlove in 2014. Now, however, she is leaving, retiring after 16 years in biotech.
"I feel like my right arm is getting cut off," said Director Long, "but she says she's going to leave anyway. Merrie is the only incubator professional in the world who has won the Global Incubator of the Year award three times. She's a difference-maker, and we're going to miss her."  
Sid Martin Biotech is a world-recognized leader in biotechnology business incubation. It offers both a program and a place – well-equipped with specialized equipment, laboratories, and office space – to serve therapeutic, diagnostic, med device, ag-bio, clean energy, biopharma companies and more.
Located in the city of Alachua since 1995, the 40,000-square-foot incubator celebrated its 25th anniversary in September to little fanfare, only because the pandemic prevented any public celebration. 
The culture at Sid Martin
Shaw's entrance to the world of business incubation and technology transfer is much like others who land there. Most don't go to college or otherwise seek a career in this field, but those who do are hooked for life.
"All the companies bring something different, something new," explained Shaw. "Each one of them is exciting because they're working on something that's going to make the world a better place. And if they're successful with it, then, oh, my gosh, the world has succeeded."
When Sid Martin companies succeed, Shaw could (but wouldn't) claim some of the credit. The incubator's mission statement is "We help entrepreneurs feed, fuel, and heal the world." Whether it's by providing companies space or equipment, connecting them to investors or other funding, getting them legal or accounting help, matching them with advisors or other guidance, Shaw and the rest of Sid Martin staff do benefit the growth of companies.
Directly or indirectly, Shaw has made a tremendous impact on the economies of Alachua County and the state of Florida by helping companies find talent, funding, and partnerships.
She prefers to credit any success to what she calls "a cup of sugar." Just as a neighbor might come borrow a cup of sugar or an egg or a shovel for a project, Sid Martin companies borrow and lend from each other. Sometimes a chemical, sometimes an idea. Like close-knit neighbors, the incubator companies know each other and their projects well. 
"So when somebody has this breakthrough, it might be because this company over here helped them when they were up against a wall and at a loss for ideas," Shaw said. "And this one will say, 'Have you thought about trying…?' And then the company tries it and, yes, it works.
"So when one company hits a milestone or has a huge success, we all celebrate because we had a part, we contributed a 'cup of sugar.'"
Elliott Welker, the incubator manager, has spent the last few years gleaning as much insight and training from Shaw as he could. He credits the collaborative, supportive culture at Sid Martin to her.
"Merrie brought authenticity, character, and expertise to the program," he said. "She curated a culture of putting entrepreneurs first and built a family from our clients."
Biotech companies, by the nature of the technologies they are developing, take longer to incubate.
"The companies are with you for so long that you watch them and their employees get married, you watch them have children, you throw baby showers for them," Shaw said. "You really get to know the people in the companies. And they are wonderful."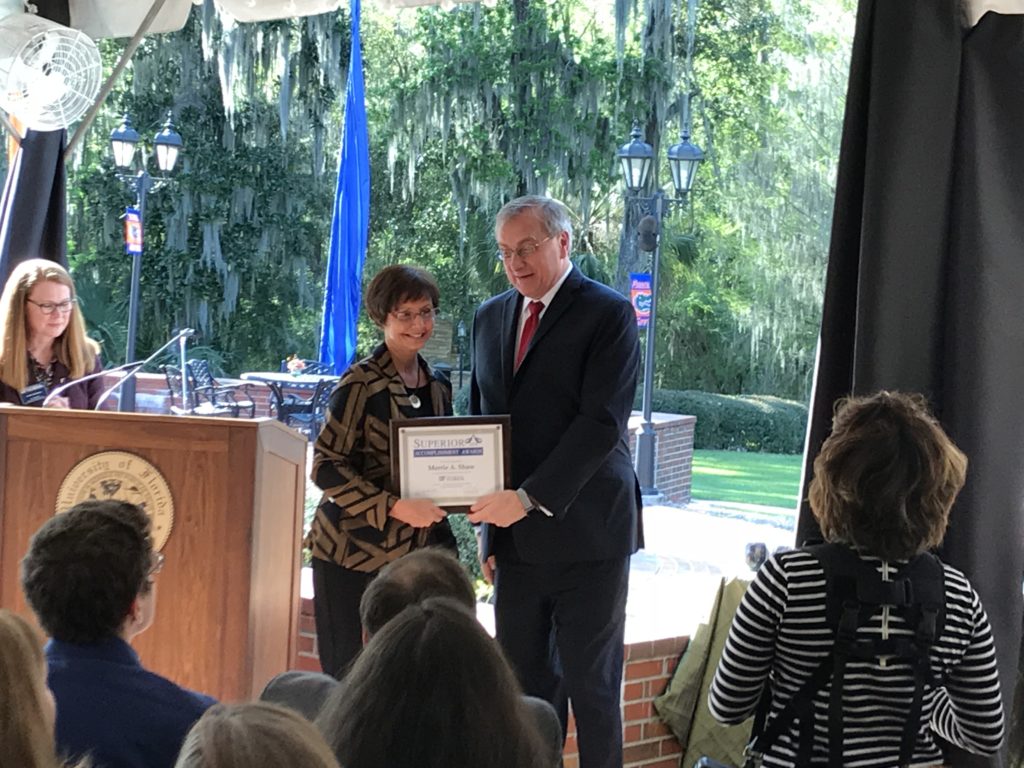 The business of biotech
Under Shaw's watch, Sid Martin companies have raised more than $9.3 billion in funding, $7.5 billion in the past eight years alone. After completing the program, 82 percent of alumni are still operating after five years post-graduation. Companies often remain in the area, and they have created more than 8,000 high-tech jobs, a significant impact on the local, state, and national economies.
The incubator has won the International Business Innovation Association's Randall M. Whaley Global Incubator of the Year award three times, in 2020, 2017, and 2013. The award is the highest honor bestowed by the international organization.  
"Winning awards is awesome, but it's why you win the awards," Shaw said. "It's the companies and what the companies have brought to the table and feeling like you're a part of that."
When Shaw started working at Sid Martin in 2005, she had just returned to her hometown of Alachua after 30 years. After spending years out of the workforce, she had looked to Breedlove as a way to meet a future employer.
"Patti was known for introducing people and making connections," Shaw said. "She offered me a part-time reception job, where she could introduce me to people as they came into the building. She said, 'I'm sure we can find you a job in no time.'"
Shaw had worked as an orthopedic physician assistant for 12 years before becoming a stay-at-home mother doing bookkeeping on the side. Returning to the workforce as a single mom of a 14-year-old was intimidating, but she had a lot riding on her success.
"Because of that, I think I tackled it with a lot of zeal and a willingness to learn everything I could about it."
"Thirty days after I started, Patti told me, 'You're not going anywhere. I'm not letting you leave. I'm putting you on full time here, and we will make a position.'
"She did. She also gave me some of my confidence back, and I will always be grateful for that."
When Breedlove retired, Shaw was part of the search committee to choose her replacement.
"I had known Mark from the InBIA and attended all his classes and gotten to know him really well," Shaw said. "We make a great team too. I think the best thing about working with Mark is that you work with Mark, you don't work for Mark.
"He believes in that theory that you hire qualified people and get out of their way so they can do their thing. Even though he didn't hire me, he gave me the freedom to grow and expand, and he has given me more exposure and credit than anyone ever has."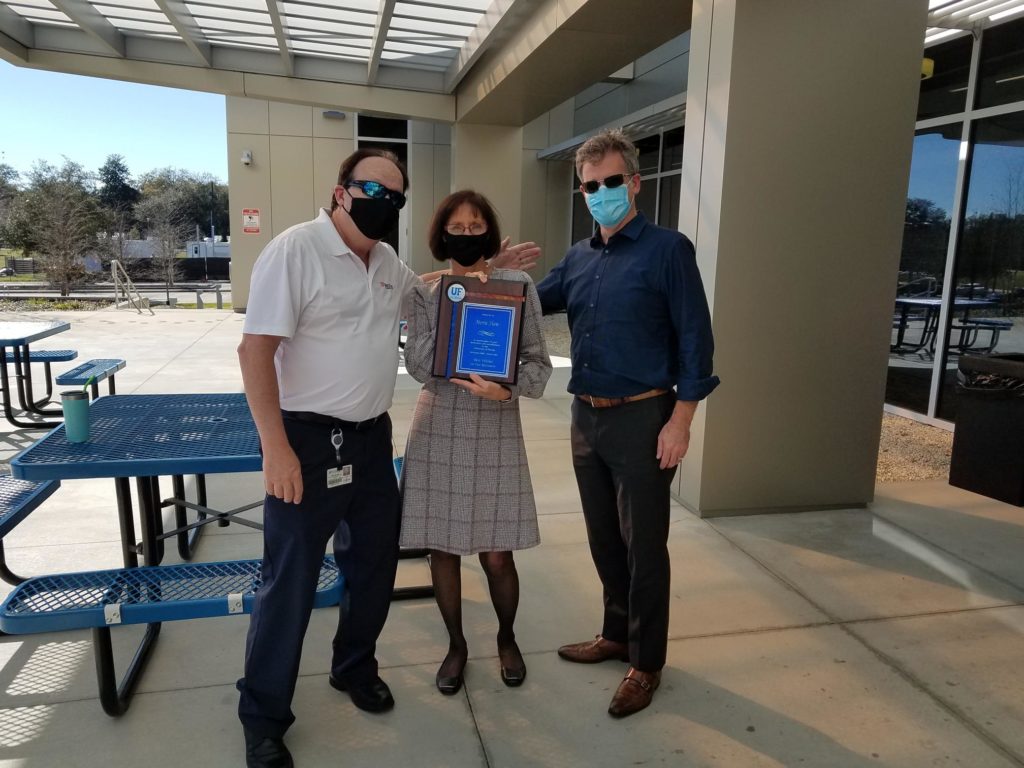 When Long became the director of incubation services at UF, directing UF Innovate | The Hub as well as Sid Martin Biotech, Shaw took on the day-to-day operations at the biotech incubator to free Long to run the mixed-use incubator and help lead efforts to develop the Gainesville Innovation District. 
"Merrie managed the entire operation," Long said. "She was always 'on' – working many, many hours and was 'on call' weekends, nights, and holidays – because she loved her job and respected the goals and dreams of her clients.
"Merrie was never the type to seek individual praise, but she was always quick to lift up others, to point out the achievements of the groups, and to take pride in the accomplishments of her employees. They say no one is truly 'irreplaceable,' but in my book, Merrie Shaw is someone who will never be replaced."
Shaw is a self-defined champion for the underdog. She had wanted to be a lawyer so she could take cases for the people who couldn't afford a lawyer.
"So I would have been a poor lawyer," she said. "But I wanted to go and champion the causes for people who couldn't do it themselves.
"I get told that I'm still that way by my companies," she added, "that I fight for the little company. I do. I fight for it to be able to stay here and I scramble to find the company money."
In addition to facilitating the success of companies, Shaw said she has learned more about electrical and HVAC systems and buildings then she thought possible. She can walk down the hallway and hear a noise and know that, for instance, the fan belt for air handler Number 6 has a loose fan belt.
"And my staff say, 'How do you do that?' I tell them that I have walked this building so many times in these 16 years that you can hear the sounds and know when something isn't right," Shaw said. "Elliott's getting that way already.
"I can't imagine walking the halls that last time. It's going to be a very strange feeling. I know it's time for me to leave, but it's bittersweet. I feel like I'm leaving part of me here, but that's OK."
If Welker is getting his "ears" for the biotech building, he credits Shaw for what he's learned.
"Her contributions to biotech incubation and our entrepreneurial ecosystem are beyond measure," he said. "There is no replacing Merrie. We will learn how much of our jobs she did for us. She has set us up for success and now we must stand on her shoulders to continue her tradition of excellence."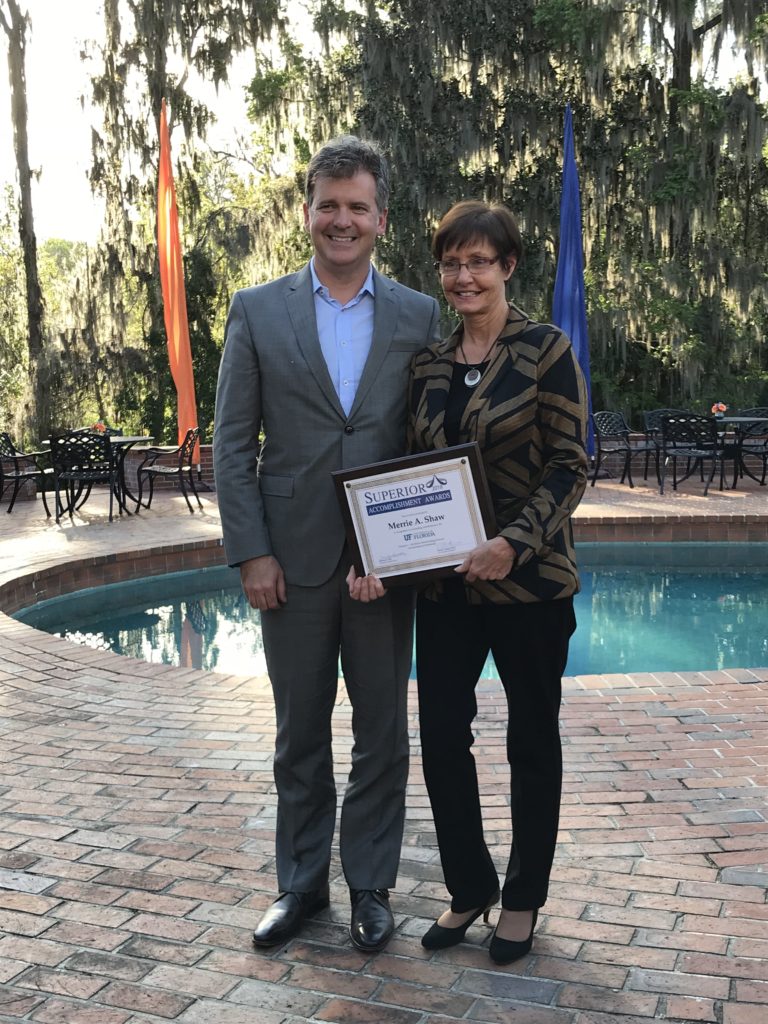 Of course, Shaw and other staff members kept their cell phones by their beds to monitor any UF or other alerts, in case they were needed at the facility to handle emergencies such as power outages, floods because clients left DI water taps running, or freezers failing.
"You feel you're on call 24-7, 7 days a week, every day," she said. "That's the one part I won't miss."
What she will miss are the people, both her fellow workers and the employees at the companies within Sid Martin's walls.
"It's all about the people. I know the science is big. And the grants. I mean, we have seen our companies bring in an unbelievable amount of money to this area. But it's the people," Shaw said. "I've met a lot of absolutely wonderful people along the way. I have friendships that will last me for the rest of my life. That's been the most wonderful part, I think, of all of it."  
---
By Sara Dagen, marketing & communications manager, UF Innovate