Concept Companies Provides New Lobby Furniture in Honor of Sid Martin Biotech's 25th Anniversary
Gainesville-based developer Concept Companies has made a considerable sponsorship to the award-winning UF Innovate | Sid Martin Biotech incubation program making possible the purchase of new lobby furniture for the benefit and use of its resident entrepreneurs. The new furniture expands the drop-in meeting and dining space offered at the facility with the addition of high-quality armchairs, booths, tables and sofa loveseat. The value of the sponsorship is over $15,000 and was made in commemoration of Sid Martin's 25th anniversary.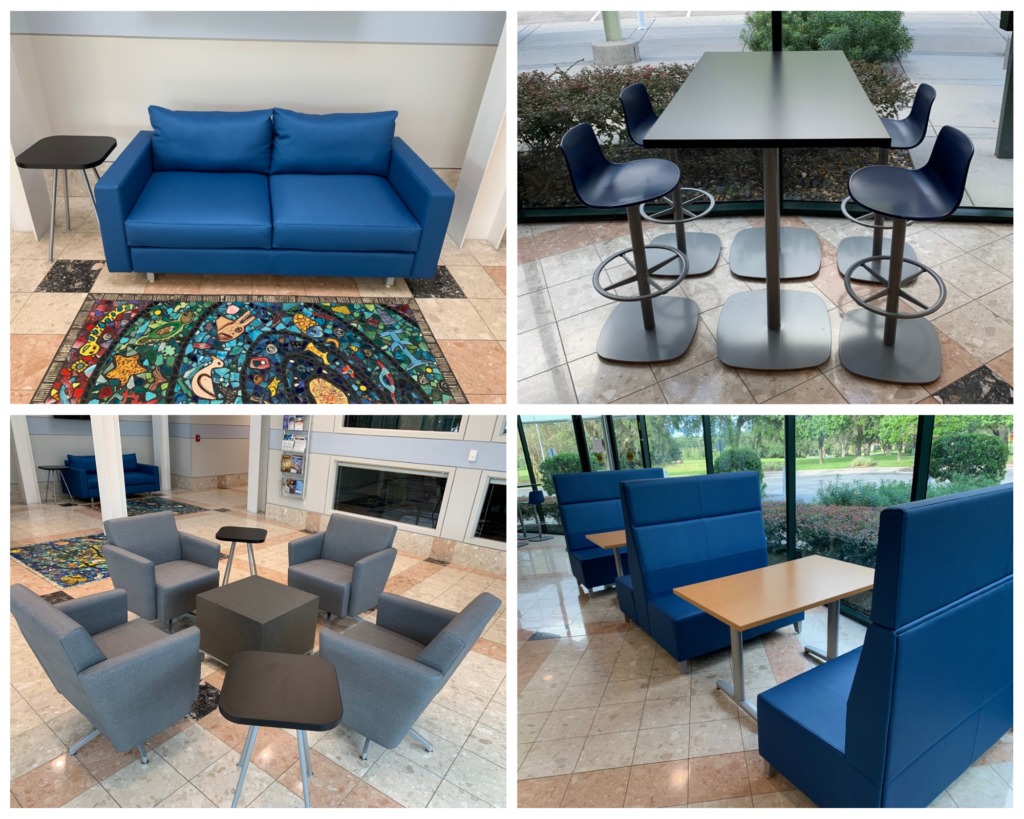 Mark Long, Director of Incubation Services at UF, stated, "We are able to offer a world-class atmosphere at Sid Martin, a three-time global award-winning incubator, thanks to the support of groups like Concept Companies. We greatly appreciate this new furniture to provide an outstanding break area for our entrepreneurs."
Brian Crawford, CEO of Concept Companies, stated, "Our sponsorship of the Sid Martin Biotech exemplifies our commitment to the continued growth of the biotech sector in the region. We are expecting the biotech industry in Alachua County and the UF Innovate | Sid Martin Biotech Incubator to continue to do great things."
Sid Martin opened its doors on September 25th, 1995, offering biotech startups access to wet laboratory space, executive office space, meeting space, shared scientific equipment, and other amenities necessary for research and business. Sid Martin is able to achieve its mission to help entrepreneurs feed, fuel and heal the world due to the continued support of sponsors such as Concept Companies.
---
About Concept Companies
Concept Companies is a full-service real estate development firm headquartered in Gainesville, Florida. With a proven portfolio of success in projects ranging from single-tenant net lease and corporate build-to-suit to community-enhancing mixed-use projects, our dedication to excellence is evident. Its diverse experience results in the development of effective solutions for its clients' real estate and facilities needs. Concept is committed to providing state-of the art solutions for science and technology companies in the Southeast. For more information, visit www.conceptcompanies.net.
Concept Companies Contact:
Emily Williams
Marketing Manager
352-333-3233, ext. 138
About UF Innovate | Sid Martin Biotech
UF Innovate | Sid Martin Biotech is the leading biotechnology incubator headquartered at the University of Florida in Alachua, Florida, at Progress Park. Sid Martin has been honored with national and international awards for incubator excellence and achievements in technology commercialization, funding access, job creation and technology-based economic development. It is dedicated to mentoring and accelerating the growth of innovative early-stage bioscience and biotechnology companies and supporting the economic growth of the North Central Florida region. For more information, visit Sid Martin Biotech.
Sid Martin Biotech Contact:
Merrie Shaw
Assistant Director
386-462-0880
mashaw@ufl.edu
https://innovate.research.ufl.edu/sid-martin-biotech/