UAVs and AI Are the Newest Tools Growers Can Use for Crop Management
Cloud-based, automated solution provides data to manage specialty crops more effectively
They say knowledge is power.
That philosophy is what drives Dr. Yiannis Ampatzidis, an assistant professor at the Southwest Florida Research and Education Center in Immokalee, where he leads the precision agriculture engineering program. With a background in agricultural engineering, Ampatzidis both intimately understands grower priorities and has the technical know-how to build new tools to advance traditional crop management practices.
"Most of the technologies and solutions that we develop are to solve real-life problems," explained Ampatzidis, recipient of a UF Innovate's Invention of the Year award. "I'm an engineer, so always in the back of my mind, I am developing something that the growers in our industry will use in the near future."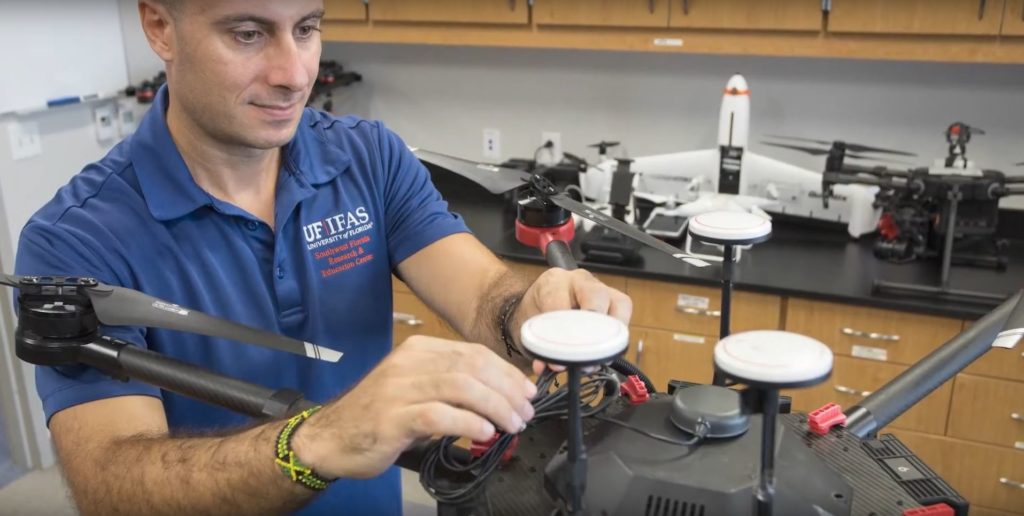 Ampatzidis uses unmanned aerial vehicles (commonly known as drones or UAVs) to collect overhead images that are stitched together to map entire fields. His novel AI-based software, named Agroview, extracts meaningful data from those images such as the number of plants, as well as indicators of plant health: average leaf density, tree height and canopy area. Additional probes at ground-level collect even more granular data, about soil conditions, for example. One key aspect of this technology is the interconnectivity of the legion of sensors, which constantly update the information to an online cloud server.
"It is an automated solution with different levels of intelligence," said Ampatzidis. "It is cloud-based and runs different AI-based algorithms so we can collect and analyze data from UAVs, unmanned aerial vehicles, from satellites, but also from ground-based sensing platforms. We process and visualize them to make maps."
All this data is overlaid onto high resolution aerial images, creating a highly interactive and user-friendly graphical interface for their stakeholders, mainly specialty crop growers. Ampatzidis' software is so precise that a user can select individual plants within a field and instantly access detailed data about its health and productivity.
"The interface that he's developed is very intuitive and provides actionable information to the producers," said Dr. John Byatt, associate director and licensing officer at UF Innovate | Tech Licensing, who nominated this technology for UF Innovate's Invention of the Year Award during Standing InnOvation 2020.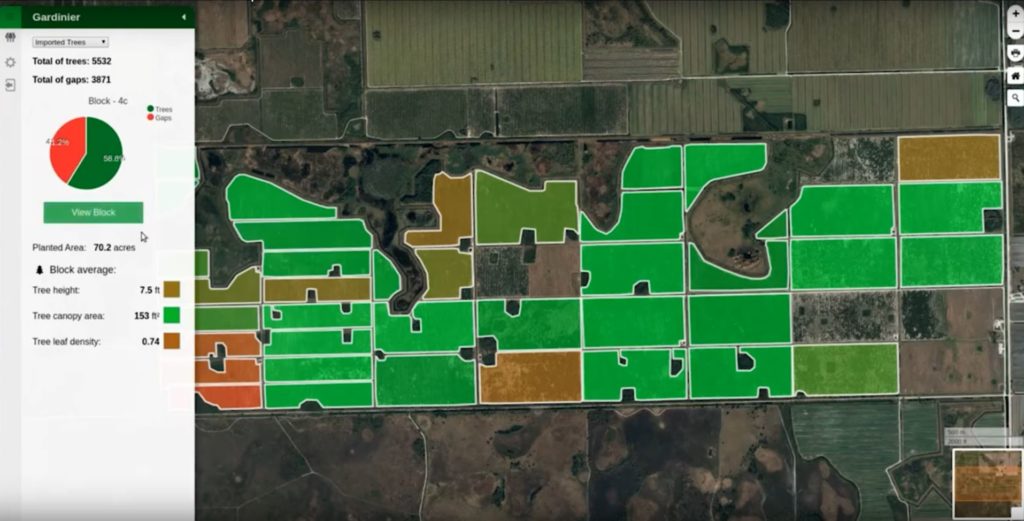 While there are similar tools on the market for row crops like cotton, soybean and wheat, specialty crops such as vegetables and fruit trees have limited options. Growers have used data about weather and plant health to guide their management practices for millennia, but Ampatzidis hopes that his technology will make data collection more efficient and precise through automation.
"We are living in a data-driven era, and data is the number one asset right now," explained Ampatzidis. "I came up with this idea to develop a solution specifically for vegetables and tree fruit crops. To analyze this huge amount of data will help growers make better decisions to better manage their fields."
For example, a new feature of his software uses spectral data from UAVs to estimate essential plant nutrient levels, which is used to color-code regions on citrus grove maps based on nutrient deficiency or excess. These estimates are critical for growers, who can then selectively apply fertilizers, which is both budget and environmentally friendly and could improve plant quality.
Because citrus growers struggle so much with the effects of greening disease, creating tools to help was a high priority. Citrus growers can use first releases of the software to manage their groves, which includes data relating to management of greening disease. Ampatzidis has made enhancements to his software so it can provide useful information for all the major crops in Florida, including citrus, sugarcane, and tomatoes.
Ampatzidis initially came up with his idea during his first year as faculty at University of Florida in 2017. He said that growers realized the potential of his technology and encouraged him to commercialize his idea. Ampatzidis collaborated with two engineering colleagues, Victor Partel and Lucas Costa, to develop his idea into a useable software. The engineering trio started their company, Agriculture Intelligence, in collaboration with UF Innovate | Tech Licensing with the dream of helping Florida growers.
"Ampatzidis had been working with his stakeholders, with the citrus producers, and there were a number of people that said, 'we want to use this; we want to use this right now!'" said Byatt. "We normally get inventions that are more of a concept or idea and then need much more development. This was one of those rare instances where the technology was almost ready to go."
UF Innovate | Tech Licensing connected Ampatzidis with Matt Donovan, who became the CEO of Agriculture Intelligence, a company borne from Ampatzidis' technology. They transformed Ampatzidis' idea into their primary flagship product, Agroview.
"Agriculture Intelligence is a company that's been set up to expedite commercial-ready, precision agriculture that's coming out of the University of Florida," explained Matt Donovan, CEO of Agriculture Intelligence, "We're bringing Agroview to market for growers in Florida, in the U.S. and some other areas in the world where specialty crops are grown."
Byatt expanded on the vision for Agriculture Intelligence, noting its possible applications for other crops, such as grapevines and tree nuts, and that growers from both South America and Europe have already expressed interest in their software.
"Much of the same technology can be modified so it can be used for other high value crops," explained Byatt, "so it's got a lot of room for expansion. This is not just a one trick pony."
Ampatzidis plans to continue developing their software by implementing predictive modeling tools and ways to detect specific plant diseases. But he also emphasized that their next major hurdle is to build their sales team and to educate stakeholders about how their technology can help their crop production. Expanding his network has been critical to the business-side of Ampatzidis' company and he recommended other young inventors collaborate with the knowledgeable staff at UF Innovate. "A lot of my coworkers are developing solutions, technologies and techniques, and I always tell them: 'Call John Byatt up, he's a great person, he will help you,'" Ampatzidis continued. "It's really a very helpful and a very nice office."
---
Written by Jenelle Patterson, a marketing volunteer at UF Innovate | Tech Licensing. Jenelle is a postdoctoral candidate in UF's horticultural sciences department.