Snyder, Founder of Florida Biologix, Named Innovator of the Year for 2020
When informed that he was the recipient of "Innovator of the Year" – the highest recognition that UF Innovate | Tech Licensing bestows – Dr. Richard Snyder smiled humbly and said that he was caught off guard by the nomination.
In 2006, the University of Florida innovator founded Florida Biologix in Alachua to provide drug-development services to the biotechnology industry. That company went private in 2015, then merged with a Massachusetts-based biotech company to form Brammar Bio in 2016. In 2019, Thermo Fisher Scientific acquired the company. The Alachua facility continues the work Snyder started.
Awarding the Innovator of the Year honor was the culminating event at this year's Standing InnOvation, Tech Licensing's annual event to highlight and reward UF innovators for the work they have done in the fiscal year. Held September 22, FY20's event was virtual, and a pre-recorded video captured Snyder responding in an interview.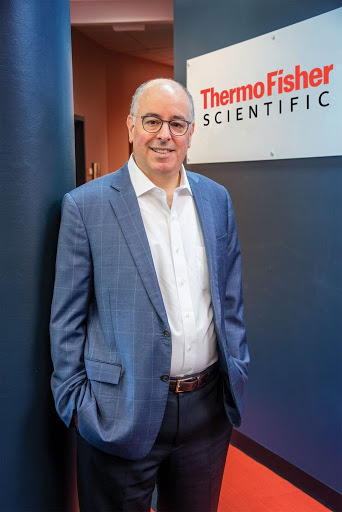 "The 2020 Innovator of the Year has changed the face of biotech here and around the world," said David Norton, vice president of UF Research, as he introduced Snyder at the event. "He took a state-funded center and made it into a company that eventually became acquired by Thermo Fisher Scientific."
The decision to nominate Snyder for Innovator of the Year was easy for Hera Lichtenbeld, a licensing officer at UF Innovate who had worked with Snyder at Brammer Bio before Thermo Fisher acquired it.
"For me, it was a no-brainer. That's Richard," she remembered thinking when nominations were due. "He started as a UF professor, developed several key technologies and believed in them. At some point, he actually had the guts to take it out of UF and start a company."
Snyder was hesitant to brag about specific achievements, instead describing his career as part of the progression of an industry that has been evolving over the past three decades.
Eminent scholar Dr. Nicholas Muzyczka introduced him to the field of gene therapy under his mentorship in graduate school at Stony Brook University. Later, Snyder went on to follow this passion in a post-doctoral position at Johns Hopkins Medical School and in subsequent positions in industry. UF's Powell Gene Therapy Center and the Department of Molecular Genetics and Microbiology recruited Snyder in 2001 from Harvard Medical School.
It was hard to foresee where the field was going in the '80s and '90s, Snyder recalled, despite the fact that he was a big believer in the technology. In those early years, much of the research focused on empirical testing of viral vectors. In the mid-2000s, the field experienced a real shift when the technology was recognized for its potential efficacy, therapeutic value, and safety. Snyder praised UF's faculty in the Powell Gene Therapy Center and College of Medicine for being pioneers in gene therapy.
He said the "ah-ha" moment in his career came when he recognized early on that manufacturing was key for this technology to be implemented as real medicine. Therapeutic gene therapy involves very complex biomolecules that require special manufacturing conditions and know-how. The key was to figure out how to scale up vector manufacturing for pure, potent and safe products.
"…my focus was to establish a manufacturing facility that was in compliance with the FDA Good Manufacturing Practices regulation," Snyder said.
To that end, he established UF's Center of Excellence, which was pivotal to launching a local manufacturing facility for novel drugs, Florida Biologix, and an education center called Biotility. These were in operation for nearly a decade before the university wanted to spin Florida Biologix out into a private company in 2015, which later merged with the Massachusetts-based Brammer Biopharmaceuticals in 2016 to create Brammer Bio.
In partnership with Brammer's CEO, Mark Bamforth, the Alachua facility grew to 300 people and acquired two additional manufacturing facilities in Massachusetts as well as a much larger client base. In 2019, Thermofisher Scientific acquired this blossoming services business, and Snyder joined their team as vice president of science and technology for viral vector services within the Pharma Services Group.
"ThermoFisher is an incredible company…with the breadth and depth and global footprint that can really facilitate the growth of the gene therapy industry," Snyder said. "I'm fortunate to have colleagues and resources that can really propel this industry forward."
Snyder emphasized that throughout these mergers and acquisitions, it was a priority to maintain a local company presence to provide high-tech employment opportunities and invest in the health of this community.
When prompted to describe his own contributions to the biotech industry over the years, Snyder quickly asserted that, "It took a whole village, so to speak," while jokingly brandishing two pages of notes and names of all the people he wanted to acknowledge who supported and contributed to the success of his endeavors.
This list included UF faculty and administration, colleagues at Brammer Bio and ThermoFisher, and the experts at UF Innovate | Tech Licensing. He praised the collaborative spirit fostered by UF Innovate's business incubators, The Hub and Sid Martin Biotech, and the Gainesville Chamber of Commerce.
"[Tech Licensing] is world class in terms of spinning out companies, creating value around intellectual property," Snyder said. "I think it's a fertile ecosystem that is really healthy for creating businesses and turning ideas into real companies."
When given the chance to share an anecdote about what gets him excited about this industry, Snyder again reflected on his "incredible and dedicated colleagues" within the company and scientific and medical communities who "kick into action" whenever they are called upon.
To young scientists, Snyder said, "If you have an idea and something you believe in: remain persistent, stay focused, set and work hard to achieve the goals to get you where you think the end point is…but also be nimble enough to adapt as situations change. Don't be afraid to learn new things and recognize that you don't know everything – and learn from others."
And, above all: "Have a cause that you believe in. For me, it is improving the lives of patients in need."
---
Written by Jenelle Patterson, a marketing volunteer at UF Innovate | Tech Licensing. Jenelle is a postdoctoral candidate in UF's horticultural sciences department.