25mar5:30 pm6:30 pmstartGNV AMA -- Women in GNV InnovationFeaturing Helena Cowley, Victoria Liu and Jennifer Harrell!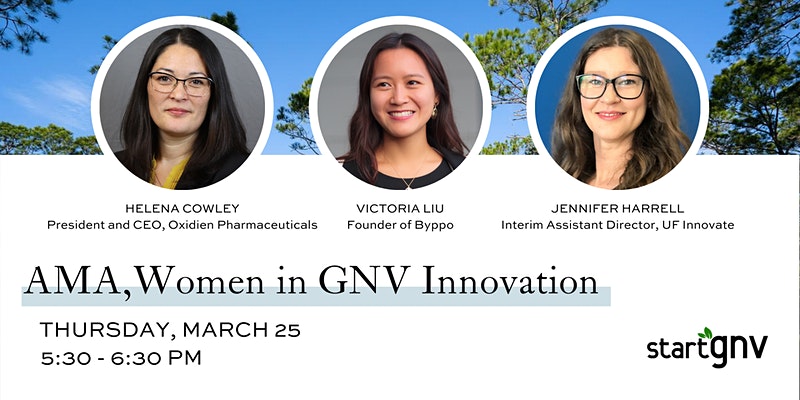 Event Details

Join startGNV for a live 'Ask Me Anything' (AMA) session where local female leaders discuss their experiences in the innovation ecosystem.

Register here!
Helena Cowley, President and CEO, Oxidien Pharmaceuticals
Helena Cowley is the President and CEO of Oxidien Pharmaceuticals. She has over 10 years of experience in pharma, medical device, and food, mainly in entrepreneurial start-up environments. Prior to Oxidien, Helena was part of the executive management team at Captozyme, Inc., a contract development and manufacturing organization she built alongside the two scientific co-founders from being the first employee hired to a headcount of over twenty managing a 7500 sq. ft. cGMP facility, which was acquired in 2019 by Arranta Bio. Over Helena's tenure Captozyme tripled revenues and was named among the top 50 fastest-growing University of Florida alumni-led businesses on the annual 2019 Gator100 and named a "Florida Company to Watch" by GrowFL in 2017.
Helena is a co-inventor on two patents and received the Governor's Entrepreneur Award in 2015 for creating jobs through an innovative business. Ms. Cowley holds a Master's in Business Administration, M.B.A., from the University of Florida, and a Master of Science in Bioengineering, from Chalmers Technical University, Gothenburg, Sweden.
Victoria Liu, Founder of Byppo
Victoria Liu is the Founder of Byppo, an app that partners with local restaurants and provides users with a seamless food ordering experience.
In 2019, Victoria graduated with a Master's degree in Accounting from the University of Florida, the same year Byppo was founded. While the app has seen impressive growth and success since its inception, Victoria's decision to pause her accounting career to create and build her own business didn't come easily. She credits her leap into the world of startups to the inspiring entrepreneurs and tight-knit community in Gainesville.
Victoria is passionate about 'paying it forward' in her business and her personal life. Through the pandemic, Victoria has leveraged her app to help local restaurants connect with local customers and stay afloat. In her spare time, she continually seeks to give back the same support she received as a budding entrepreneur.
Jennifer Harrell, Interim Assistant Director, UF Innovate
Jennifer is the Interim Assistant Director of UF Innovate | The Hub where she manages day-to-day operations in order to facilitate a supportive and encouraging environment for aspiring entrepreneurs to grow. She works with UF Incubation Services leadership to meet occupancy and revenue goals; implement programs, new initiatives, and special projects; monitor client performance; meet social media metrics; and establish operational goals and objectives that align with the overall strategic plan.
Jennifer is an experienced manager with a history of working in both the private and public sectors of sales, hospitality, real estate law, finance and accounting. She has been with The Hub since 2016 and was part of the team when The Hub was awarded the 2018 International Business Innovation Association (InBIA) Global Mixed-Use Incubator of the Year award.
Jennifer obtained her accounting degree from Fisher School of Accounting at UF and is currently the Treasurer of the Florida Business Incubation Association. She holds an Incubation Management Certificate from the InBIA, is a WKI Certified Coach and was a Leadership Gainesville Graduate (Go Green!). In her free time, Jennifer loves traveling, gardening, and spending time with her husband and fur babies.
Michelle Brownstein, startGNV Moderator
Michelle Brownstein is the Associate Director of User Research, and a UX designer/researcher on a development team at Three Five Two, a digital product development firm. Though she's worked in the web industry since 2008, she has applied usability principles to everything in her life since long before she learned the phrase "user experience."
Michelle has worn many digital hats over the years, from interactive design and coding to UX research, strategy and usability. Backed by a M.S. in psychology, she has helped clients like Wells Fargo, Cummins, 3M, Fifth Third Bank, and Cox Automotive create lasting connections with their customers.
Time

(Thursday) 5:30 pm - 6:30 pm