29jun5:30 pm6:30 pmstartGNV AMA: NASA Tech Transfer ProgramJoin us for our AMA with NASA's Joni Richards to get the scoop on the Tech Transfer Program!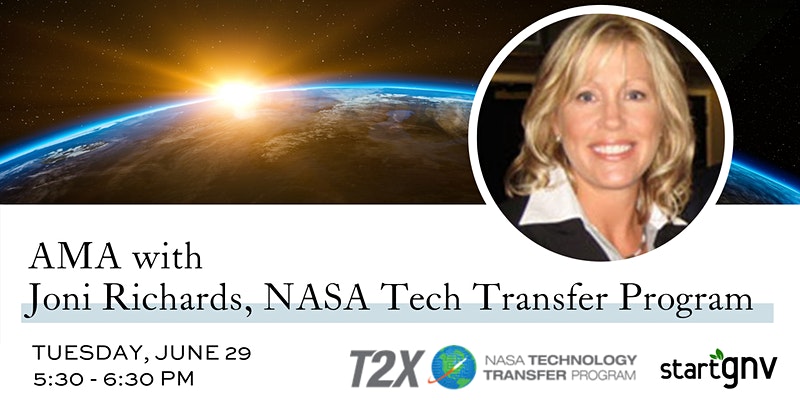 Event Details
About this event
Join us for an Ask Me Anything with Joni Richards, T2X Commercialization Specialist at the Kennedy Space Center!
Joni will be giving participants the scoop on the NASA Tech Transfer Program, which ensures that innovations developed for exploration and discovery are broadly available to the public, maximizing the benefit to the Nation. Whether you're looking to start a new company, enhance an existing product, or create a new product line, you can gain a competitive edge in the marketplace by putting NASA technology to work for you.
Joni will also talk about NASA's T2U program, which connects universities with NASA-developed technology to give students the opportunity to work with federal government research and technology. Student entrepreneurs build case studies with NASA's patent portfolio while learning about commercialization and licensing opportunities. NASA T2U has generated a number of successful licenses and new startup companies.
Don't miss this opportunity to learn more and ask Joni anything! 🚀
Register here!
About Joni Richards
Since 2018, Joni Richards has supported the Strategic Technology Partnerships (STP) team as a Customer Technology Manager where Kennedy Space Center (KSC) is one of several NASA field centers that are participating in this initiative. NASA KSC and the Economic Development Commission of Florida's Space Coast formed a strategic alliance through a Cooperative Agreement where the overall goal is to provide applied technology solutions, resources and expertise to accelerate regional economic growth on Florida's Space Coast; related article: http://www.inparkmagazine.com/entech-nasa/
From 2014 to 2017, Joni was the Program Manager for NASA's Technology Evaluation for Environmental Risk Mitigation Program, part of the Environmental Management Division. In this role, she interfaced with various government agencies as well as domestic and international partners to coordinate the necessary multi-stakeholder collaborations to conduct Technology Demonstrations of mature commercially viable technologies that are strategically aligned with the agency's environmental risk reduction goals. This required interfacing and negotiating the technical, budget and other resources required to fulfill various Space Act and Interagency Agreements. As a result, she continues to maintain her security clearances in support of other technical projects that involves sensitive information.
Some of her previous accomplishments include: 2012-2013 NASA's Technology Transfer Advisor working with Colorado's Manufacturing Extension Partnership to help Colorado companies identify and facilitate Technology Transfer opportunities to encourage and accelerate new product development. During this one year pilot project, Ms. Richards prepared 3 partnership agreements and assisted a software company secure a SBIR contract during pre-solicitation.
As KSC's SBIR/STTR Manager from 2007-2012, she coordinated several Technology Focused Workshops that provided a networking environment for NASA's Subject Matter Experts to meet NASA's Phase 2 Small Businesses that had high potential for addressing needs within 2 different technology areas.
Previous accomplishments include being a hands-on Flight Experiment Engineer on several spacelab missions, the Payload Project Engineer for the second International Microgravity Lab mission which allowed her to interface and negotiate with 6 foreign space agencies to ensure spacelab requirements were met; Space Station Simulation Engineer, working hardware and software design requirements for the test control and monitoring system; One year detail at NASA HQ under the Professional Development Program (PDP); Marketing Lead in the Technology Programs and Commercialization Office where she managed KSC's participation at national tradeshows; active member of KSC's Speakers Bureau as well as an Alternate Dispute Resolution Mediator for NASA.
Ms. Richards obtained her bachelor's degree in Electrical Engineering at the University of Central Florida and is a certified Project Management Professional (PMP). On a personal note, Ms. Richards recently volunteered with FEMA by assisting survivors from the California wildfires and she carried the Olympic Torch in 1996 and lit the cauldron in downtown Orlando due to the city hosting a portion of the soccer games. She's also a graduate of "Leadership Orlando 2006," a community leadership program that continues to meet for alumni sessions to examine key themes and issues that affect the region.
Time

(Tuesday) 5:30 pm - 6:30 pm