23jun6:00 pm8:00 pmSip & Support the GNV LGBTQ+ CommunityJoin Infotech and startGNV to show solidarity with the LGBTQ+ community! Drinks, drag, karaoke, and more!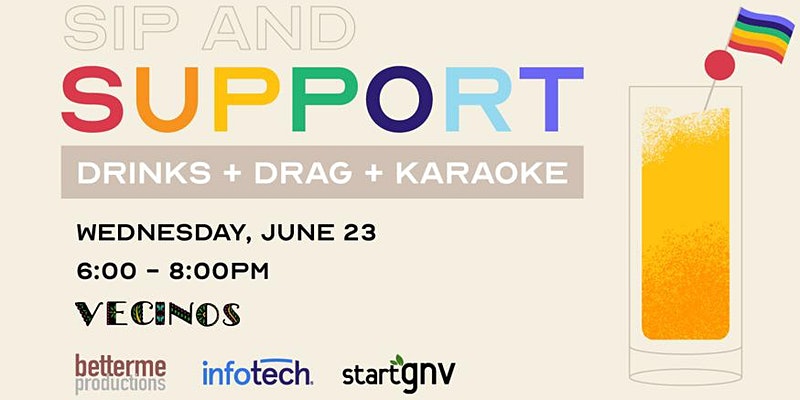 Event Details
About
Tech and startup community! Join Infotech and startGNV for a night of fun as we show solidarity with the LGBTQ+ community.
The mixer will take place at Vecinos Neighborhood Bar and Restaurant from 6:00-8:00 PM, and feature drag and karaoke.
Courtesy of Betterme Productions, the event will also gather messages of support for the LGBTQ+ community. Footage will be promoted through a startGNV social media campaign.
Details
What: Sip & Support, Hosted by Infotech and startGNV
When: Wednesday, June 23, 2021, 6:00 PM EST – 8:00 PM EST
Where: Vecinos Neighborhood Bar and Restaurant
Who: startGNV, Infotech, Betterme Productions, startup and tech employees
Details: This event is free and open to all members of the tech and startup community
About startGNV:
startGNV is a 501(c)(3) non-profit focused on growing the innovation ecosystem of Greater Gainesville. We are led by a "working board" of active volunteers including founders of high-growth startups, leaders of established tech companies, professionals from the University of Florida, and other passionate citizens of this beautiful, quirky community we all share. Visit our website http://startgnv.com
About Infotech:
Info Tech, Inc., DBA Infotech (Infotech) bridges innovation and integrity by developing cutting-edge digital solutions for the infrastructure construction industry and providing expert statistical and econometric consulting services across multiple industries. Infotech's two core businesses, Infotech Systems and Infotech Consulting, use technology and data to bring transparency, integrity and efficiency to the people we serve. Informed by DOT relationships and decades of experience, Infotech Systems develops software solutions that bridge the gaps between owners, consultants, contractors, and other project stakeholders. Infotech is the developer of Appia®, Bid Express®, and Doc Express®, as well as the official contractor for AASHTOWare Project™.For more information on our SaaS offerings, visit infotechinc.com.For more information about our expert consulting services, visit infotechconsulting.com.
Time

(Wednesday) 6:00 pm - 8:00 pm