04feb11:00 am12:00 pmFireside Chat: Building a Winning StartupJoin us for an insightful, inspiring, educational and interactive conversation between four innovative and entrepreneurial trailblazers.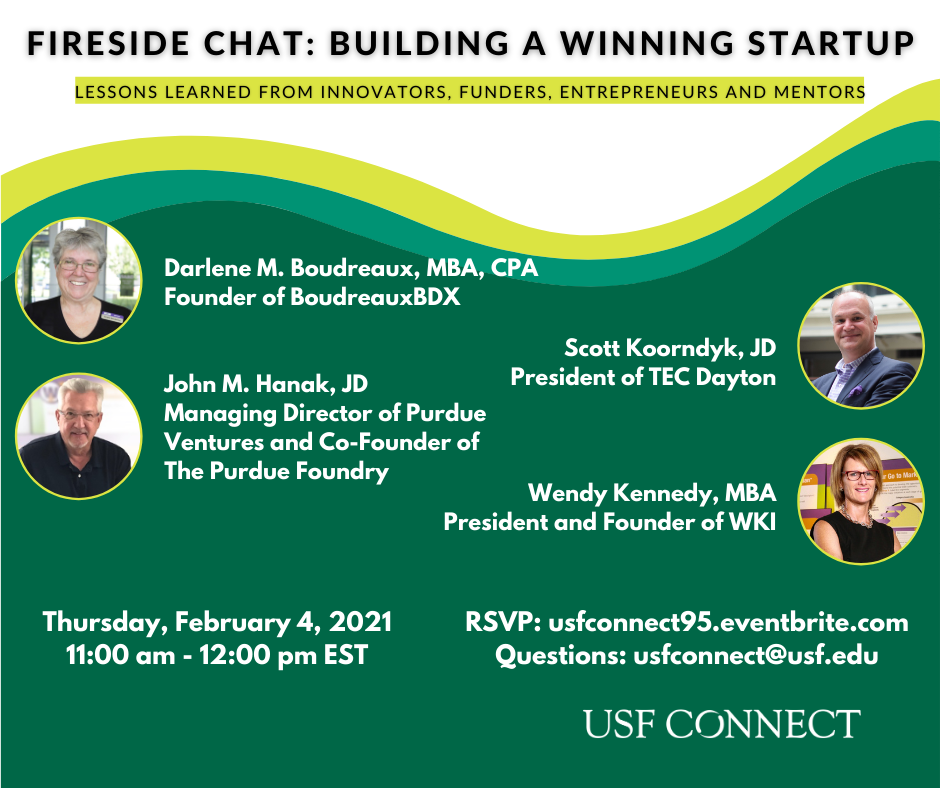 Event Details

Join us for an inspiring, educational and interactive session as we share a conversation among four innovative and entrepreneurial trailblazers who've been there and done that successfully. Darlene Boudreaux(former pharma CEO and Executive Director of TechFW, now founder of BoudreauxBDX), John Hanak (Managing Director of Purdue Ventures and co-founder of The Purdue Foundry), Scott Koorndyk (President of TEC Dayton, one of the nation's hottest SBIR funding success stories), and Wendy Kennedy (founder of the winning design methodology for innovators and entrepreneurs known as So what? who cares? why you?®) will come together to share insights and perspectives from their collective decades of personal entrepreneurial experience and lending assistance to fellow entrepreneurs.

This founder-focused group will share insights on designing high impact commercialization endeavors, securing funding, building scalable startups and a host of other topics relevant to entrepreneurs. Please join us and come prepared with questions as there will be plenty of opportunities to join the conversation.

Register here!
Darlene M. Boudreaux, MBA, CPA
Founder of BoudreauxBDX
After nearly 20 years as a CPA specializing in international tax with Andersen, Darlene co-founded a pharmaceutical manufacturing company with her father and brother. Her father died soon after the company was founded and Darlene bought her brother's half of the company and became the CEO, leading the company to tremendous growth. She was named the 2003 Ernst & Young Southwest Region Entrepreneur of the Year in Life Sciences, was the only American on the list of the nine Leading Women Entrepreneurs of the World in 2004 and was on the Inc 500 list for three years in a row. Following her sale of the company in 2006, she became Executive Director of TechFW, a technology business incubator in Fort Worth, establishing multiple programs for entrepreneurs, universities and angel investors, including the Cowtown Angels Network.
Since her retirement in late 2018 from TechFW, Darlene has continued her work with entrepreneurs: coaching TechFW clients, serving as fractional CFO for other early-stage companies, serving as Board member for two companies, investing as a member of the Cowtown Angels and the VIC Investor Network, and volunteering as CFO of BioNTX.
She holds a BA in math and German from DePauw University, an MBA from the University of Chicago Booth School of Business, and a graduate certificate in genealogical research from Boston University.
Darlene has served on the national boards of the Association for Frontotemporal Degeneration, the International Business Innovation Association, and DePauw University, as well as several local boards, including Junior Achievement, Girl Scouts, and the American Heart Association.
John M. Hanak, JD
Managing Director of Purdue Ventures and Co-Founder of The Purdue Foundry
John M. Hanak works with WKI-wendykennedy.com inc. where he and Wendy Kennedy help organizations build an entrepreneurial mindset and prepare innovators to turn ideas into reality.
John is also currently the managing director of Purdue Ventures, having shifted his role at Purdue in early 2020, creating the opportunity to partner with WKI-wendykennedy.com inc.
John was one of the co-founders of the Purdue Foundry, the entrepreneurial hub serving the Purdue University community. Previously, he served as Statewide Director of Purdue's network of technology incubators across the state of Indiana. At the Purdue Research Foundation since 2005, John comes from a rich background of experiences in large companies, startups, and investing activities. He holds BS and JD degrees. He has served, and continues to serve, on a number of corporate and volunteer boards and is a former chair of the board of directors of the International Business Innovation Association and former president of the Venture Club of Indiana.
As managing director of Purdue Ventures, he is the fund manager for four seed funds and also manages the Purdue Research Foundation's portfolio of startup investments, all with a total of approximately $40M in asset value. He remains active with the Purdue Foundry, the startup hub that is currently spinning out an average of 40 companies each year.
Scott Koorndyk, JD
President of TEC Dayton
Scott Koorndyk is President of The Entrepreneurs Center (TEC), a technology commercialization center located in Dayton, Ohio. TEC supports more than 1,000 innovation-focused start-ups and small businesses through a variety of programs, with clients primarily in the aerospace, advanced materials and biosciences markets. Under Scott's leadership, TEC launched the Air Force Research Laboratory's Technology Acceleration Project (TAP), a program to identify, assess and commercialize technologies within AFRL. Since inception the TAP program has supported more than 200 small businesses across the US. In addition, TEC leads the Entrepreneurial Services Provider Program, an $20M initiative to provide mentoring and support services to early-stage technology companies in the Dayton Region.
Throughout his career, Scott has focused on technology development and commercialization in diverse for-profit and nonprofit businesses. Prior to his role at TEC, Scott was Executive Vice President and Chief Operating Officer for the Dayton Development Coalition ("DDC"). In that capacity, Scott led the Dayton Region Signature Fund, a $22.5M pre-seed venture program with more than 30 companies in the investment portfolio. In that capacity, he led investment curation, due diligence, and portfolio management activities. Prior to joining the DDC, Scott served 15 years at LexisNexis in business and venture development roles, including the management of venture investment, strategic alliances and a license with a combined value of more than $480M, and the acquisition and operational integration of corporations ranging from $500K to $80M in size.
Scott has a Bachelor of Science in Chemistry with a BioChemistry from Hope College in Holland, Michigan. He also holds a Juris Doctorate (J.D.) from the University of Dayton School Of Law, with a concentration in Intellectual Property law.
Wendy Kennedy, MBA
President and Founder of WKI
Wendy Kennedy is recognized internationally as the author and architect of the popular So what? who cares? why you?® commercialization methodology. Since 2005, Wendy's methodology offering a proven approach to turn ideas into business opportunities, has been adopted by incubation centers, research labs, innovation centers, universities and private corporations in more than 25+ countries.
As President of WKI ( wendykennedy.com Inc.), Wendy and her team advise, train and coach organizations to advance their innovation, commercialization and entrepreneurship agendas. Today, the WKI methodology and design frameworks have provided a platform to inspire, ideate and innovate in organizations including: The European Space Agency, Dundalk Institute (Ireland), Penn State University, Scottish Enterprise, the University of Texas, UF Innovate and Sid Martin Biotech, Air Force Research Laboratories, and many more. Today, the WKI methodology is credited with helping to put ideas on the payload of a spacecraft, restore 20:20 vision, bring groundbreaking therapeutics and diagnostics to reality, and even launch new and delicious food products nationally.
Prior to founding WKI, Wendy was a member of the founding teams in six technology startups, all of which were inspired by founders with an idea on a napkin. She has special expertise in launching new technology innovations to market, gained from her experience launching one of the first personal computers in the early 1980's. She has also launched early stage ideas including one of the first electronic banking services, an early innovation for wireless internet in motion, and several enterprise software solutions. She also spent time as a teaching professor at Algonquin College, where she created and launched an innovative program for engineers, scientists, and technology entrepreneurs to discover the business value of their ideas.
Wendy holds a Masters Degree in Business from Queen's University and is a recipient of the Dr. Laurent Isabelle Award for innovation and excellence in education. Wendy is a founding member of the Canadian Advanced Technology Alliance, Women in Technology Forum, focused on mentorship development programs for women entrepreneurs in Canada.
She lives in Ottawa, Canada with her family. Learn more about Wendy Kennedy and WKI at www.wendykennedy.com.
Time

(Thursday) 11:00 am - 12:00 pm