14aug12:00 pm1:00 pmCollaboratory for Women Innovators Special Speaker SeriesSusanna Lamers, Founder and CEO of BioInfoExperts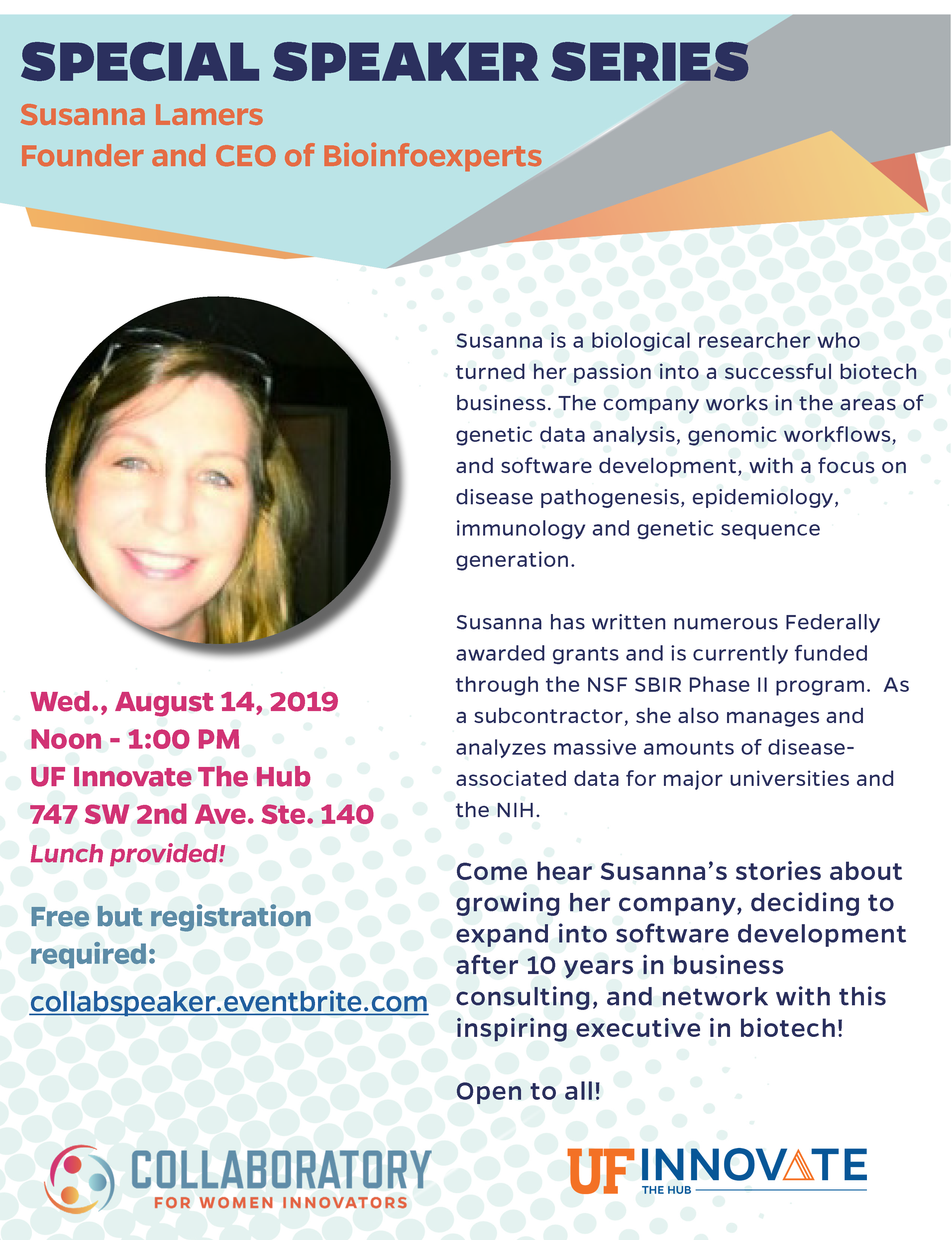 Event Details

Susanna is a scientist who turned her passion into a successful small research and consulting business helping companies in the areas of data analysis, management of multifaceted projects, grant, and manuscript preparation, biological work-flows, and software development. The company works in the fields of biology, bio-informatics, computer programming, pathogenesis, and immunology, with a specialization in economic analysis and sequence generation.

Susanna and her company have been awarded SBIR grants (Phase I and II) and have contracts with numerous universities and the National Institutes of Health to assist in the management and analysis of massive amounts of disease-associated sequence data.

Come hear Susanna's stories about growing her company, deciding to expand into software development after 10 years in business consulting, and network with this inspiring executive in biotech!
Time

(Wednesday) 12:00 pm - 1:00 pm EST
Location

UF Innovate | The Hub

747 Southwest 2nd Avenue
Organizer
Collaboratory for Women InnovatorsThe Collaboratory for Women Innovators seeks to inspire, educate, and empower women to attain leadership in all phases of the innovation lifecycle. We offer a variety of programs and experiences to support different goals for participants at various stages of their personal and professional development. The genesis for the Collaboratory developed as an outgrowth of the successful Empowering Women in Technology Startups program (EWITS). Ewits began in 2012 and provides experiential hands-on entrepreneurial training and skills. The Collaboratory was originally envisioned as a next step in the entrepreneurial process to further support women starting their own companies. However, the mission has expanded to also include focus on increasing participation of female inventors, as well as providing opportunities for women who, although not currently actively pursuing a business startup, may be interested in learning more about innovation, entrepreneurship and leadership, as well as connecting with other like-minded people.Wanda Eugene at weugene@ufl.edu