10junAll DayAerospace Innovation & Tech Forum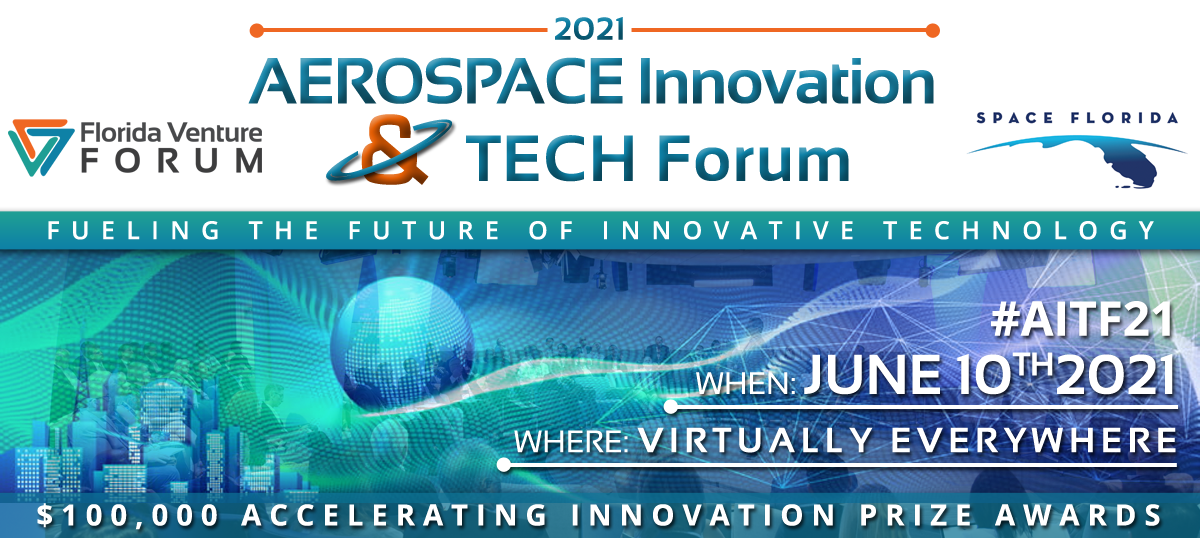 Event Details

The Florida Venture Forum and Space Florida will host the annual Aerospace Innovation & Tech Forum on June 10, 2021. This virtual half day event will feature aerospace and innovative tech companies from related industries. Companies are invited to apply to present and compete for the Space Florida's Accelerating Innovation (AI) awards, totaling $100,000. Selected presenting companies must have a focus in aerospace and related innovative technologies (see commercial markets listed below) to be eligible to compete for up to $100,000 in total allocated awards. The GRAND PRIZE* winning company will receive $40,000. The FIRST RUNNER-UP winning company will receive $30,000 and (TWO) SECOND PLACE companies will receive $15,000 each. NOTE: Prize determination by the judging team is FINAL. This event is an opportunity to broaden the spectrum of early stage, Florida-based companies in the fields of aerospace and related technologies, as well as non-Florida entities with commitments to relocate to Florida, and/or other demonstrable engagement in the Florida aerospace & innovation supply chain. The Aerospace Innovation & Tech Forum will provide an opportunity for the industry to engage with the Florida Venture Forum investment community, including private equity, venture capital and angel investors. Presenter applications will be reviewed and presenters chosen by a selection committee made up of active angel and early stage equity investors.
SPACE FLORIDA FOCUS COMMERCIAL MARKETS
All participating companies must be engaged in market sectors that align with the strategic sectors of Space Florida, set forth in its Vision 2021. These sectors are:
3D Printing Technologies & Innovation Advanced Materials & New & Innovative Products & Agriculture Climate/Environmental Monitoring Aircraft & Spacecraft Design Parts & Assembly Engineering Design & Construction Structural Materials & Electronic Assembly Artificial Intelligence (AI) Sensor development & research Civil Protection & Emergency Management Communication Systems (All / both land-based & in space) Cyber Security Adventure Tourism Clean/Alternative Energy Applications Data Analytics Medical & Surgical Innovations Satellite Communications Information Technology Health Technology Knowledge Based Services Innovations in Planetary Sustainability Towards The Development Of Nutritious Food Clean Water And Energy International Space Station (ISS) & Human Life Science (Including all human Medical Research) Payload Development for Space Exploration Radiation Protection both on Earth & in Space Reconnaissance and Missile Development (All), for both Commercial & Military purposes Robotic Technologies (all types) – Parts, Design & Assembly, both Earth based & elsewhere Satellite Systems & Science Payloads Ground & Operations Support Systems Space Transportation & Advanced Aerospace Platforms Unmanned Aerial Vehicles Surveillance, both for military & commercial usage and Virtual Reality (VR) & Augmented Reality (AR) research & development.
PRESENTER PROCESS
ALL applicants must complete the presenter application on the Forum's application website. In addition, a one-minute compelling pitch via video must be emailed to: pat@flventure.org. The FINAL application deadline is May 14, 2021. Applicants are encouraged to apply as soon as possible, as selection is made on a rolling basis. Upon notification of selection, presenters must submit an additional five-minute video pitch (MP4 file or YouTube link) with accompanying slide deck (PPT). Five-minute presentations must be submitted upon notification to: pat@flventure.org. Selected presenters will be scheduled to participate in a live Q & A session with judges via webinar on June 10, 2021. Presentations will be shown on demand throughout the event. *Previous 1st placed Grand Prize Winners are ineligible to reapply.APPLY NOW