Dr. Barry Byrne Named Innovator of the Year 
UF Innovate Honors Innovators at Fifth Standing InnOvation Celebration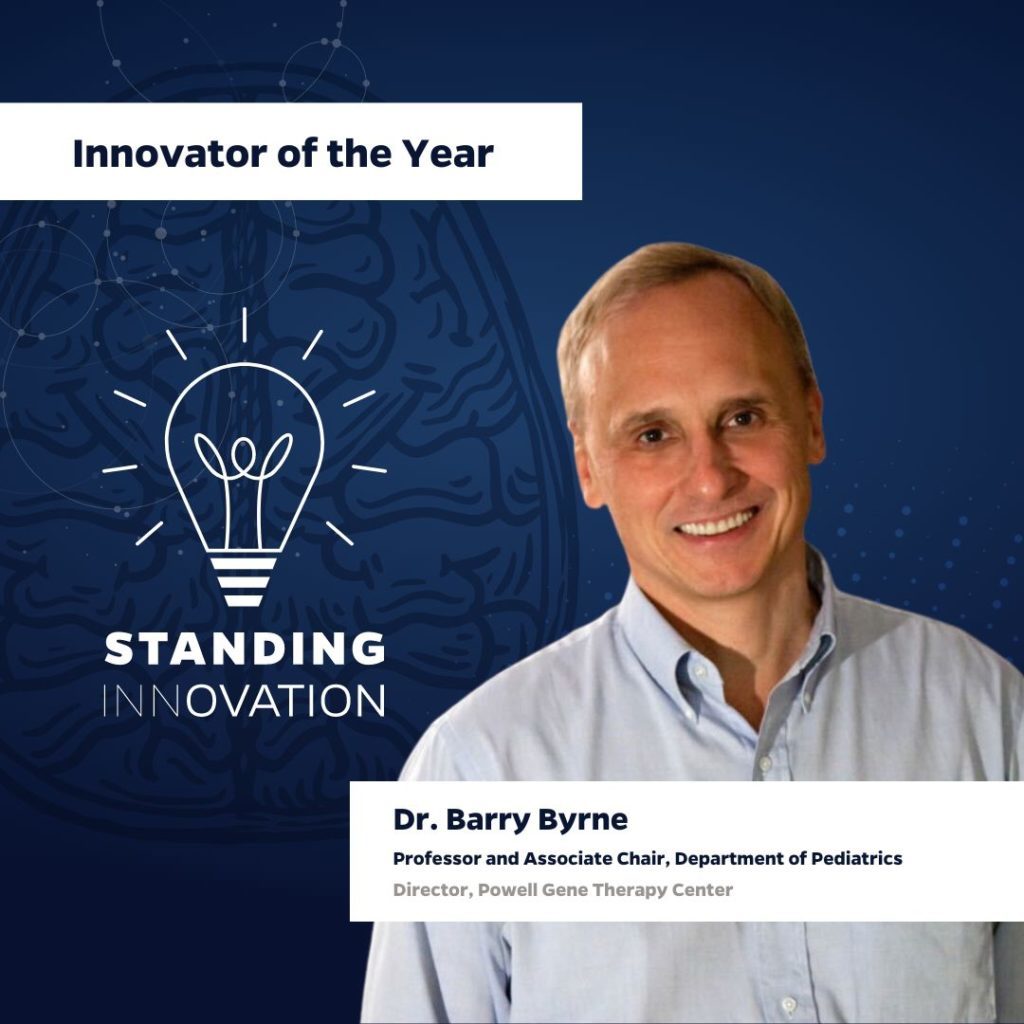 The annual event honored Dr. Barry Byrne as Innovator of the Year for his contributions to gene therapy and highlighted six teams of inventors for their Inventions of the Year.
---
More than 200 innovators and entrepreneurs gathered for UF Innovate | Tech Licensing's fifth annual Standing InnOvation event to honor and celebrate innovators and their work at the University of Florida in fiscal year 2022.
Since its inception in 2018, Standing InnOvation gives a much-deserved "standing ovation" to the UF innovators who disclosed, licensed, or optioned technologies in the fiscal year that ended June 30. This year, innovators disclosed 310 technologies, licensed 124, and started 10 companies.
The 2022 Innovator of the Year
UF Innovate also looks at a researcher's body of work over many years and selects one who has made significant scientific contributions that have been licensed and made their way to the marketplace, sometimes when the researcher creates a startup based on their discoveries.
Dr. Barry Byrne, associate chair of pediatrics and director of the Powell Gene Therapy Center at the University of Florida, considers it his "obligation to save the children" living with debilitating muscle diseases, said Dr. Hera Lichtenbeld, who manages Dr. Byrne's portfolio at Tech Licensing.
Dr. Byrne has dedicated his career to pursuing novel gene therapies for treating diseases such as Duchene's Muscular Dystrophy, Friedreich's Ataxia, and Pompe Disease, giving hope to families. Unable to attend the event in person, he spoke via a short, pre-recorded video.
"If Dr. Byrne were here, he'd take the stage, accept this large lighted trophy, and likely inspire you to keep working with UF Innovate | Tech Licensing as researchers – and consider entrepreneurship, too," said Dr. David Norton, vice president for UF Research.
In addition to being an excellent clinician scientist, Dr. Byrne is a successful entrepreneur. He has co-founded several biopharmaceutical companies such as Lacerta Therapeutics and AavantiBio. Dr. Manuela Corti, Dr. Byrne's colleague and AavantiBio co-founder, accepted the trophy for him.
 The 2022 Inventions of the Year
Out of those 310 new technologies disclosed in FY22, each of UF's six licensing teams chose one Invention of the Year that stood out to them as one with great potential.
These inventions range from discoveries of new monoclonal antibodies and genes to predictive algorithms, AI-based software, and innovative frameworks. These innovations are changing their fields, markets, and the world around them.
"Showcasing these awardees each year never fails to amaze me at the breadth and depth of innovation we have at the University of Florida," said Jim O'Connell, assistant vice president of commercialization and director of UF Innovate. "They are a sampling of the vast array of fields covered on our campus and across the state, the wide variety of problems considered and solutions found."
These are this year's awardees:
Fully Human Monoclonal Antibodies Targeting Siglec-6
Dr. Christoph Rader, professor at UF Scripps, and co-inventor Dr. Matthew Cyr identified monoclonal antibodies targeting Siglec-6. Chronic lymphocytic leukemia (CLL) is common in adults, targeting mature B cells in the immune system. Current therapies target all B cells, exacerbating immune dysfunction in patients, and only have mechanisms of remission and relapse.
The discovery of these monoclonal antibodies targeting Siglec-6 enables therapies to target specific cancer B cells. The curative therapies targeting CLL can potentially cure this and other cancers, not just treat them.
"It's a product for the community," said Dr. Rachel Harding, the licensing officer working with this technology.
Controlling Citrus Huanglongbing by Mitigating Cell Death of the Phloem Tissues Caused By Candidatus Liberibacter Asiaticus via Suppressing Reactive
Dr. Nian Wang, professor in the Microbiology and Cell Science Department and the Citrus Research and Education Center at the University of Florida, believes that in order to solve a problem, you need to understand it first. Dr. Wang has applied this logic when looking at the root of the problem behind citrus greening.
How does the pathogen, CLas, impact the trees it infects?
Compelling evidence shows the infection triggers an excessive immune response in the citrus trees. They produce hydrogen peroxide, killing the cells transporting nutrients to the plant. With this breakthrough, Dr. Wang and other researchers can target treatments and modify genes to make citrus trees resistant to infection. Soilcea, a commercial partner, is working with the University of Florida to create and test gene-edited citrus based on this new knowledge!
Targeting Ptchd1 and Neuronal Cholesterol as a Therapeutic Strategy to Enhance Safety of Opioid Analgesics
Dr. Kirill Martemyanov, professor and chair in the Department of Neuroscience at UF Scripps, and Dr. Brock Grill identified a new gene for controlling opioid-receptor trafficking. When individuals use opioids, they slowly build a tolerance to the drug. In order to continue receiving the pain-reducing effects of opioids, users increase their dosage intake, pushing them into the danger zone of addiction and possible overdose.
Dr. Martemyanov has been working to understand the mechanisms behind opioid addiction. The discovery of the opioid-receptor traffic-controlling gene will enable researchers to interfere with the gene in order to prevent an opioid tolerance build-up. By exploiting this mechanism for pain treatment, patients avoid tolerance and dependence to opioids and transform our response to the opioid crisis.
Automatic Algorithm for Prediction of Therapeutic Settings for Deep Brain Stimulation Therapy Based on Neural Signals
Drs. Coralie de Hemptinne, an assistant professor in the Norman Fixel Institute for Neurological Diseases at UF Health, and Jackson Cagle developed an automatic algorithm for predicting optimal implant settings for patients receiving deep brain stimulation as a treatment for movement disorders.  
Movement disorders impact the quality of life for millions. Deep brain stimulation, via an implant, is an effective treatment, but each patient requires custom settings to achieve improvement. More difficult, settings can change over time.
With Dr. de Hemptinne and Cagle's predictive algorithm, physicians can make real-time adjustments to implants, reducing the time needed to achieve symptom relief and improving the function and mobility of patients.
Virtual Building Construction Inspection for Permitting
Drs. Ravi Srinivasan, director of Graduate Programs and Research in the M.E. Rinker, Sr. School of Construction Management, and Nawari Nawari, professor in the College of Design, Construction, and Planning, developed AI-based software for automated zoning review, building plan review, and virtual building inspection. It performs rapid, uniform, comprehensive, and consistent code reviews, often missed by human plan reviewers.
The AI-based plan review is increasing the accuracy of code compliance, reducing errors, and creating a more efficient process. One of the nation's top home-builders is using the invention for plan reviews in Florida.
SAVIOR: A Sustainable Network of Vehicles with Near-Perpetual Mobility
Dr. Swarup Bhunia, professor in the Department of Electrical and Computer Engineering and director of the Warren B. Nelms Institute for the Connected World at the University of Florida, Prabuddha Chakraborty, and Reiner Dizon developed an innovative framework for replenishing the batteries of battery-powered electric vehicles. This cutting-edge technology is making a difference and transforming the booming electric vehicle market.
While battery-powered electric vehicles reduce the carbon footprint, battery-related concerns hinder them. These vehicles have a limited travel range, require a long charging time, and face a shortage of charging stations.
The SAVIOR framework enables the replenishment of electric vehicle batteries on the go with the help of unmanned aerial vehicles and mobile charging stations, eliminating the need for prolonged and pre-planned halts for recharging.
In conclusion
All of these inventors given special recognition at Standing InnOvation received trophies fitted with Edison lightbulbs, a tribute to both their innovation and their contribution that has the potential to brighten the world in some way.
Standing InnOvation, as the name suggests, is an opportunity to give UF innovators a "standing ovation" for the innovative work they have developed. It is also a "standing invitation" to inventors to disclose and license with UF Innovate | Tech Licensing, dedicated to protecting and licensing research discoveries.
And, as the organizers like to say, guests also do a lot of standing at the event as they network and enjoy a reception intended to honor their efforts.
---
By Andrea Dautant, Marketing & Communications Specialist at UF Innovate