Dr. Ben Lok Named Innovator of the Year
Inventors Honored at Annual Standing InnOvation Event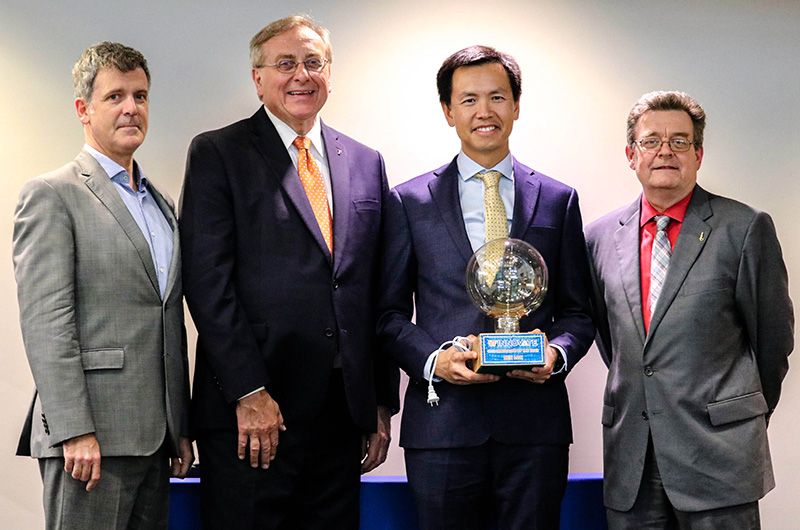 Nearly 150 innovators celebrated their achievements in fiscal year 2019 at UF Innovate | Tech Licensing's second annual Standing InnOvation event. One of those innovators was named Innovator of the Year, and seven teams of inventors shared the spotlight for their Inventions of the Year.
Dr. Ben Lok, a researcher in the Computer & Information Science & Engineering department whose inventions showcase the value of human-computer interactions, received the Innovator of the Year award for 2019.
"Much of Dr. Lok's work uses virtual humans and mixed reality to train communication skills," said Dr. David Norton, who introduced Lok at the event. "His technology is at work in Shadow Health — and he hasn't stopped creating yet — serves 1,500 plus nursing schools, providing more than 200 million virtual patient encounters a year.
"Ben's future is bright — and so is the award we want to give him today as this year's Innovator of the Year."
(The award Lok received was a large, bright light bulb on a wooden stand, burning brightly as the awardee addressed the crowd of fellow innovators.) The researcher is one of the founders of Shadow Health, an education company that trains health professional students using virtual patient experiences. The company has grown to a team of 100 members from its original 2 founders.
On the stage, Lok encouraged the innovators in the room enjoying the reception at UF Innovate | The Hub to continue working with Tech Licensing to maximize the potential of their inventions — and urged them to consider starting a company. Those attending had disclosed, licensed or optioned a technology in FY19.
"How can you increase the impact of your career?" Lok asked attendees. "The challenge that I give to all of you is this: Every three months spend some time reflecting 'what's the best way I can make an impact with my career?' And, hopefully, part of that might include disclosing an invention."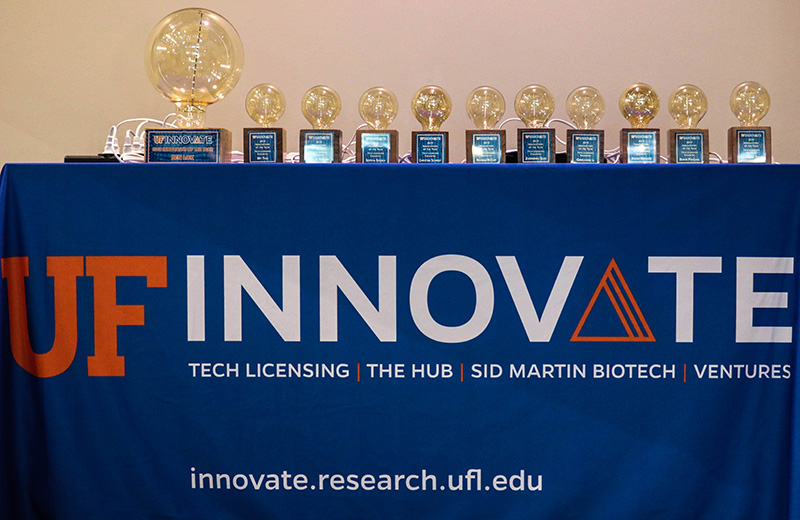 Each of the seven licensing teams in Tech Licensing chose one invention disclosed in FY19 to be an Invention of the Year. The office receives nearly 350 invention disclosures each year; each licensing officer selected one technology.
Among the winners:
Dr. Shannon Boye and Sanford Boye for their improved gene therapy to treat retinal disease.
Drs. My Thai, Thang Dinh, Lan Nguyen, and Truc Nguyen for what licensing officer Dr. Rick Croley said was the "best embodiment of the wildly popular block-chain technology."
Drs. Phyllis Hendry and Sophia Sheikh for their Pain Assessment and Management Initiative, a "non-pharmocologic, non-opioid-based pain management product that improves pain outcomes and reduces opioid risk, a very timely invention," selected by Anita Rao.
Drs. Thomas Angelini, Christine Schmidt, Young Hye-Son, Tori Ellison, and Michaela McCrary for their 3D printed spinal cord injury models, selected by Dr. Rachel Harding.
Drs. Zhongwu Guo and Qingjiang Li for their efficient and cost-effective process for combining chemical and enzymatic processes that yield new intermediates and derivative Glycosphingolipid products.
Drs. Massimo Maddaloni and David Pascual for their bacteria associated with honey bees that has potential as a vaccine against gonorrhea, a "totally unexpected link between honey bees and STDs," said Dr. John Byatt, associate director of Tech Licensing and the licensing officer who selected the invention for the award.
Dr. Catherine Price for her perioperative cognitive anesthesia network, a clinical program that tests and helps older and frail patients before they undergo anesthesia.
This was the first year that technologies were highlighted as "inventions of the year." Jim O'Connell, assistant vice president for commercialization and director of UF Innovate | Tech Licensing, welcomed each winner to the stage to receive a small light bulb trophy for the accomplishment.
"The event is intended to be a 'standing ovation' for our innovators," said O'Connell. "It's also a 'standing invitation' for them to continue working with our office. As you can tell by the varied types of inventions awarded here tonight, the technologies that come through our office cover a wide spectrum.
"It was our privilege to highlight some of the work by our innovators, and we hope that the event makes them feel honored — and that they will want to continue working with Tech Licensing."
The event was sponsored by Wolf Greenfield Intellectual Property Attorneys.
---
By Sara Dagen, marketing & communications manager, UF Innovate