Wertheim UF Scripps Institute Scientists Find Potential Cellular Target for HIV Therapies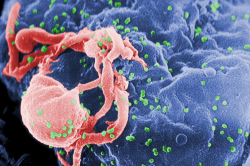 Researchers at The Herbert Wertheim UF Scripps Institute for Biomedical Innovation & Technology​ have discovered a protein that appears to play a key role in helping HIV replicate in human immune cells, providing more clues about how cellular machinery allows the virus to create new copies of itself.
The insight is more than scientific curiosity — the protein, called p32, might one day provide a potential target for drugs that keep HIV dormant and harmless.
That could eventually lead to what would essentially be a cure for HIV and thus AIDS.
Learn more about
Wertheim UF Scripps Institute Scientists Find Potential Cellular Target for HIV Therapies