UF Innovate Hosts First Fast Break Ventures Summit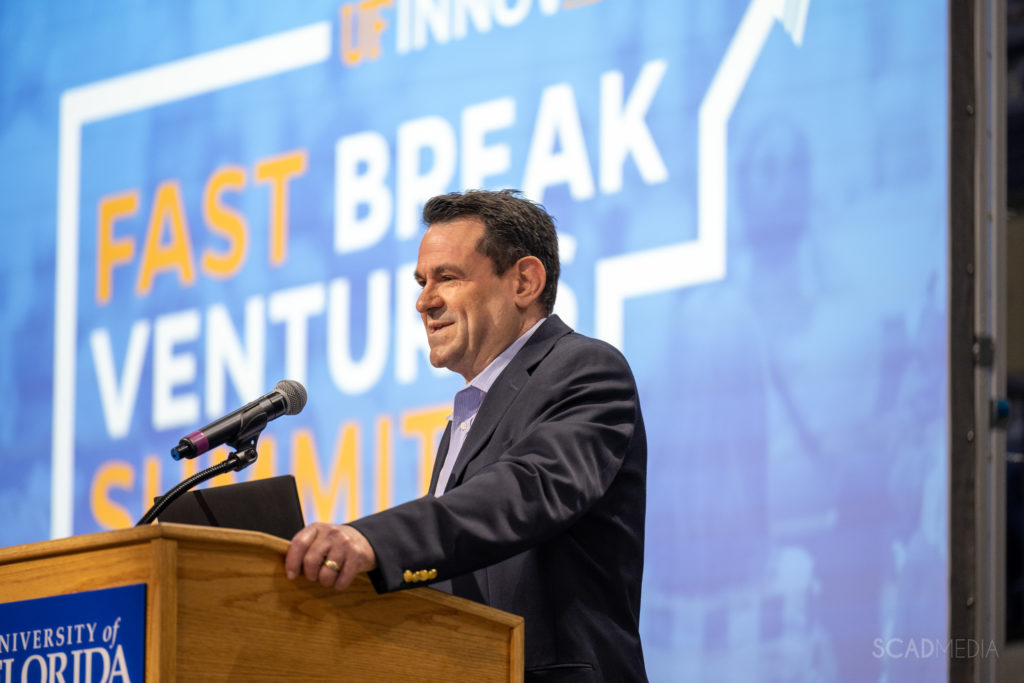 Gainesville, FL- Investors, innovators, and entrepreneurs convened at the University of Florida Stephen C. O'Connell Center on October 26, 2022, for UF Innovate | Ventures' first-annual Fast Break Ventures Summit. Over 100 attendees met on center court for an afternoon filled with discussion on the state of venture capital in Florida and to hear pitches from six startup companies.
MVP of Innovation: Florida
The summit's keynote speaker was Michael DiNapoli, the director of the Office of Small and Minority Business Capital for the Florida Department of Economic Opportunity. He followed a special welcome from University of Florida Men's Basketball Head Coach Todd Golden.
DiNapoli has more than 20 years of experience working in the finance industry. In 2017, he joined the Florida Department of Economic Opportunity (DEO). As director of the Office of Small and Minority Business Capital, DiNapoli focuses on expanding access to capital, promoting economic resilience, creating new jobs, and increasing economic opportunity.
"How can we help businesses here in Florida? What can we do here in Florida to help businesses grow? Succeed?" asked DiNapoli.
The answer? Venture capital.
With the State Small Business Credit Initiative (SSBCI) reauthorization, Florida is set to allocate $100 million to venture capital. In highlighting this, Florida attracts investors and competes with states already getting the most funding, Massachusetts, New York, and California.
"Venture Capital is an incredible tool to help small businesses; to help innovators, to help people who don't have anything but an idea…We can build this tech ecosystem [here in Florida], and… it begins with UF," said DiNapoli.
View DiNapoli's entire presentation here.
The all-star startups
In the spirit of building the Florida technology ecosystem, the Fast Break Ventures Summit included pitches from six startup companies emerging from the University of Florida: Matrix Technologies, Aurita, iOncologi, Lacerta Therapeutics, Myosin Therapeutics, and Agriculture Intelligence.
The speakers pitched the innovative technologies they have developed to disrupt and transform their markets. The companies range from hard tech to biotech therapies to agriculture and artificial intelligence.
If you are interested in learning more about each company, you can visit the Fast Break Ventures Summit website. To hear all six company pitches, you can watch the live stream.
Bank shot
Florida, the third-largest state in the country, presents a growing investment opportunity. Yet, it isn't competing with states like California, New York, and Massachusetts, and investments are not coming into the state at the same rate.
This is a challenge Benjamin Patz, managing partner and co-founder of DeepWork Capital, took head-on.
"I can see how you get money in [to Florida], but how do you help companies really get to the next level?" asked Patz.
The current state of venture capital across the country has seen a 50 percent decline in investing over the last three quarters. But, when you zoom out, you find that investment is increasing to the right, and last year was the single biggest year in terms of venture investing in the U.S.
Florida is behaving similarly.
"This state is one of the most capital-efficient markets in the country. It's a good investment to make," said Patz.
To watch Patz's full presentation, you can click here.
One-on-one with Atsena Therapeutics
Shannon Boye, the founder and director of Atsena Therapeutics, has experience when it comes to pitching and securing venture capital for her company. In a "fireside chat," Boye sat down with Jackson Streeter, director of UF Innovate | Ventures, to discuss her journey.
Boye's journey, and that of Atsena, began when she and her co-founder developed several technologies to treat specific inherited retinal diseases as well as optimize the AAV vector itself.
"We were naive at the time and we thought the best way to get those technologies into patients that needed them was to out-license them to existing companies that already had the capital and the infrastructure to bring them across the line," said Boye.
It quickly became clear the technologies were not making it into the clinic. Once the technologies hit the company pipelines, progress stalled. Components that should have taken a year to work on and move forward were taking up to five.
The big pharmaceutical companies Boye had out-licensed to were siloing the technology components to various areas of the business that were not communicating with each other. On the other hand, the smaller businesses they had out-licensed to were allowing business decisions to take precedence over sound, scientific ones.
With these things in mind, Atsena Therapeutics was born.
Since then, Boye has worked with UF Innovate | Tech Licensing and UF Innovate | Ventures to advance her intellectual property portfolio, secure funding for her startup, and have control over the directions projects are taking.
You can hear the full one-on-one, here.
Slam dunk
The summit closed with a motivational speech from Sam Tarell, founder of Divergent U and Hoop Brothers, and a special slam dunk performance from CJ Champion. Tarell's speech focused on divergent thinking and how it applies to creativity and innovation.
The attendees in the room were among the brightest divergent thinkers. They look to identify the best ways to improve systems, which do not have one, clear answer. These individuals go against the grain and work outside the norm to make quick, split-second decisions.
"In business, in innovation, we are put in positions of leadership, where we have to make quick decisions," said Tarell.
View Tarell's full speech, and the slam dunk presentation, here.
In conclusion
Florida is a growing and thriving state. This growth is bringing massive venture capital investments into the Sunshine State.
"There is a phenomenal wealth migration [to Florida]…It is the single, greatest migration of wealth in the history of this country," said Benjamin Patz, a managing partner and co-founder of DeepWork Capital.
The Fast Break Ventures Summit is among the first investor events to be back at the University of Florida following the pandemic. As the name suggests, it ties in with a basketball theme. And like the University of Florida's basketball program, UF Innovate is bringing greatness to the Gator Nation.
By Andrea Dautant