Leveraging the Biodiversity of the Ocean to Discover New Cancer Treatments
UF's Hendrik Luesch finds drug candidates from the marine environment
The ocean is a vast, largely untapped resource holding secrets that could provide opportunities to develop new drug therapies that impact human health. Dr. Hendrik Luesch, professor and chair of the UF Department of Medicinal Chemistry in the College of Pharmacy, is committed to exploring and unlocking the medicinal potential of the ocean.
 "There are still relatively few marine drugs on the market because the ocean has not been explored to its full potential, but the tide is turning and as a research community we hope to trigger a new wave of drugs," Luesch said.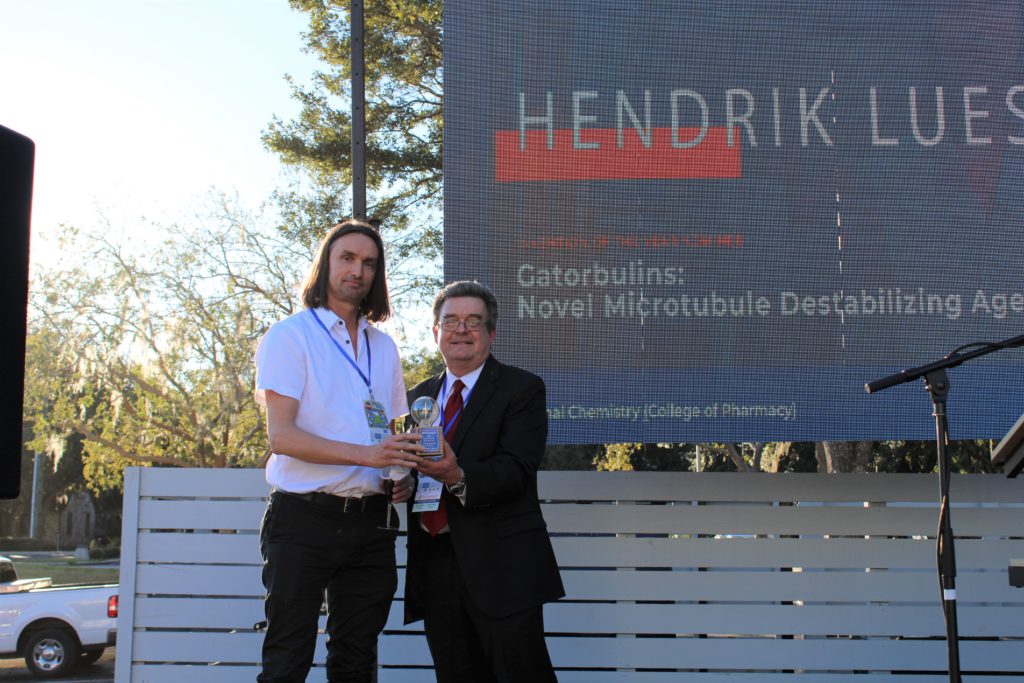 Luesch serves as the founding director of the Center for Natural Products, Drug Discovery and Development (CNPD3) housed within the Department of Medicinal Chemistry. The CNPD3 strives to provide the tools needed for the successful discovery of drug leads in an academic environment and is the home to interdisciplinary drug discovery research at UF.
Under this umbrella, Luesch leads a team of researchers who develop drug candidates designed to treat the leading cause of death in the United States, cancer.
"Natural products have been the best source of drug leads and oceans harbor the greatest biodiversity and therefore therapeutic potential on this planet." Luesch indicated. Recently, from cyanobacterial blooms found off Florida's Atlantic coast, Luesch and his team of researchers have discovered a novel marine natural product named Gatorbulin-1 that binds to a new site on tubulin, an important target for cancer drugs.
Cancer treatments on the horizon
Luesch received the Invention of the Year award from UF Innovate for his work on the discovery of this new natural product. It binds to a previously unknown seventh binding site on the protein tubulin.
Found in the cytoplasm of cells, tubulin serves as the building block for microtubules and is important for maintaining cellular structure and division. By acting on tubulin, the compound Gatorbulin-1 stops cell division and has the potential to fight cancer.
FDA-approved cancer drugs have targeted tubulin at different binding sites successfully and there continues to be tremendous interest in identifying new molecules that bind tubulin.
"Our molecule modulates tubulin dynamics in a completely different way than previously discovered compounds," said Luesch. "This could lead to a new series of drugs targeting this important cancer protein."
One of the most difficult challenges in natural products chemistry is producing enough of the compound of interest to make drug development feasible.
"We have solved this challenge through chemical synthesis," Luesch said. "In essence, we have discovered a new chemical scaffold, developed a scalable synthetic route for production, established the mechanism, identified the target, pinpointed the novel binding site, and developed new analogs.
"Our discovery of Gatorbulin-1 exemplifies that marine cyanobacterial natural products can inspire the discovery of new biology, chemical tools, or drug leads."
This is only the most recent drug discovery success for Luesch, who has worked with UF Innovate | Tech Licensing to commercialize previous drug candidates. In total, he has disclosed more than 40 discoveries during his time at UF. In addition, he holds 40 issued patents and is a co-founder of multiple companies.
While working with UF Innovate, Luesch has collaborated with Anita Rao, who now serves as program director of UF Innovate | Pathways.
"Hendrik is an exceptional and thorough researcher," said Rao. "He has developed a reputation as a researcher who is committed to chemical as well as biological development so that new lead compounds can be identified for clinical development as anti-viral and anti-cancer agents and also other diseases."
Luesch attributes part of the success of his discoveries to UF Innovate. UF has been aggressive in pursuing licensing and supporting his and other researchers' entrepreneurial activities.
UF's progressive stance on technology transfer has "allowed the research to make a difference and go beyond just being reported in the scientific literature," said Luesch.
---
Sarah Anderson Weaver is a marketing intern with UF Innovate | Tech Licensing. She is also a Ph.D. candidate in the Department of Entomology and Nematology at the University of Florida where she conducts research assessing the impacts of climate warming and land-use change on native pollinators. She has a B.A. in English – Creative Writing and a B.S. in Environmental Studies from the University of Kansas. She is a passionate proponent of science communication, and she is interested in pursuing a career in technical writing or technology transfer after completing her doctoral degree.