Meet Alex Makes Cancer Screenings More Accessible
UF's Janice Krieger and her team create virtual clinician to aid minority populations
Regular screenings are the best way to catch cancers early and improve prognoses. However, the rate of cancer screening in the United States is lower among minority populations, in part because healthcare information is rarely customized to the needs of diverse populations.
Dr. Janice Krieger, professor of advertising and health outcomes & biomedical informatics and STEM Translational Communication Center director at the University of Florida, has been working with a team of interdisciplinary researchers, which includes faculty from the Computer and Information Sciences and Engineering Department, to address this problem since 2016.
"When we obtained data showing that certain groups have much lower rates of colorectal cancer screenings, we thought, 'This is a unique opportunity for technology to fill those gaps,'" said Krieger.
To address this gap, she and Mohan Zalake, a Ph.D. candidate in human-centered computing, and their team developed Meet Alex using an NIH grant. Meet Alex is a virtual clinician created to encourage patients in communities served by UF Health to get screened for colorectal cancer. The team specifically focuses on addressing information preferences for patients of color, who show much lower rates of colorectal screening. However, the potential applications of Meet Alex abound.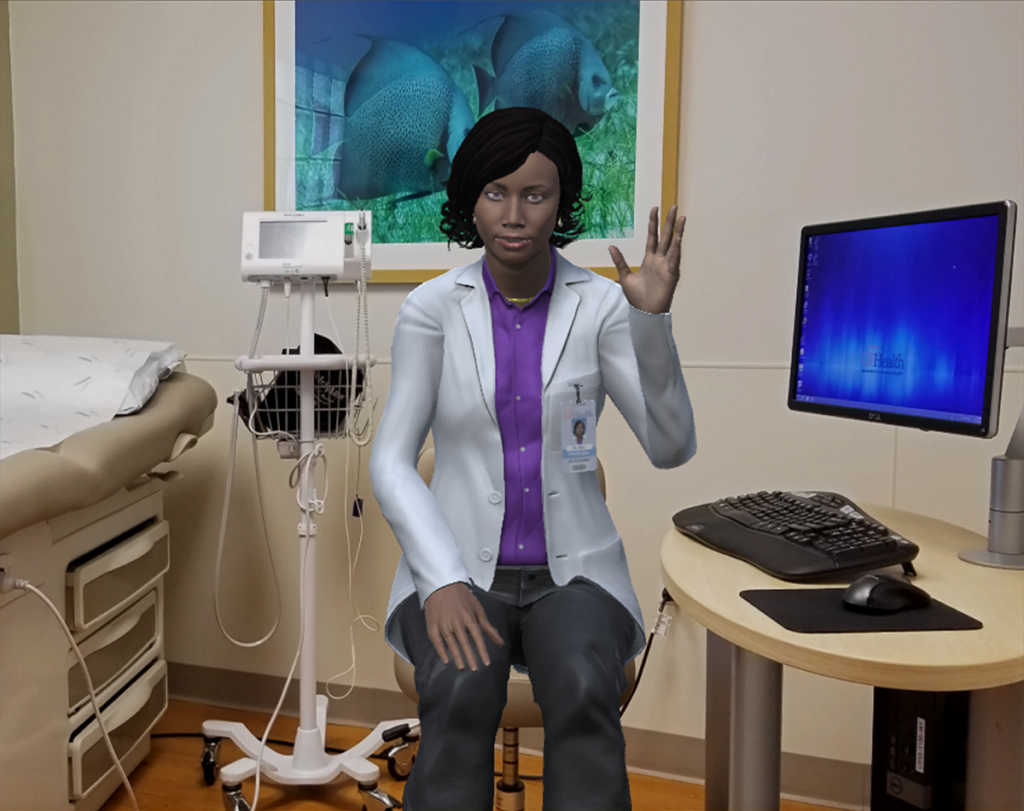 "We are excited for Meet Alex to meet the cancer screening needs in a variety of areas in the future," said Krieger, "to deliver healthcare messages in the most accommodating way to the patients so that they not only understand the advice being given, but they are more motivated to follow the advice."
What Meet Alex can do
Meet Alex provides a way for patients to order screenings to do at home, Krieger said. A tool such as this provides ease and convenience to cancer screening for underserved populations.
"This includes offering Spanish as an option for the language, making it a model for how to provide cancer and other health information in a different language," she said.
Although originally designed to increase rates of colorectal screening, the utility of virtual health services such as Meet Alex has become increasingly clear during the COVID-19 pandemic.
"One of the things that the COVID-19 pandemic emphasized is the need for interventions and for patients to have access to high-quality health information at home," said Krieger. "This pandemic showed the value of disseminating this work on a broader scale to address diverse information needs."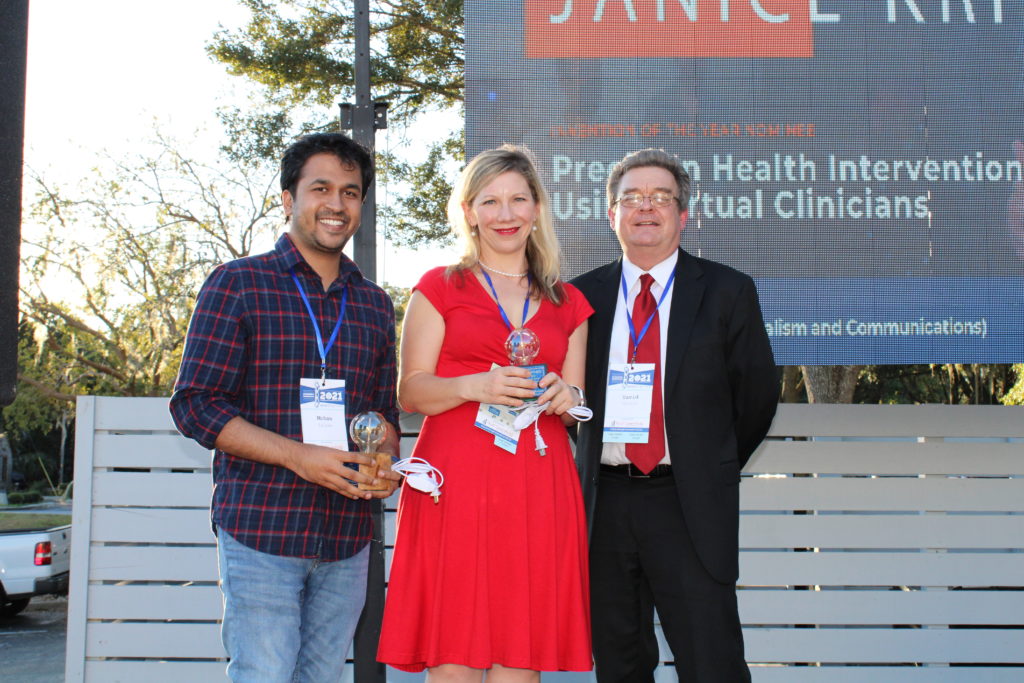 The National Institute of Aging recently awarded $2.1 million in funding to Meet Alex to recruit older adults from minority populations for clinical trials. Most recently, UF Innovate | Tech Licensing's Melissa Kuchma chose Meet Alex for the Invention of the Year award. It is the first invention coming from the College of Journalism and Communication to receive the award.
"Meet Alex is a unique invention that can have a big impact in healthcare," said Kuchma. "It's timely due to COVID and has the potential to help many people."
In addition to being relevant during the pandemic, Meet Alex has become an even more important tool during the past year due to changing healthcare recommendations.
"There is a rise in colorectal cancer among adults before age 50. In May 2021, the U.S. Preventative Services Task Force changed the guidelines of when individuals should start screening for colon cancer," Krieger said. "It was changed from 50 to 45 years old. This invention can help inform a lot of people about this new recommendation for screening very quickly."
"We want to improve communication about cancer screening. It is vitally important that patients know the right time to screen as well as the different types of screening options available", she said. "Detecting potential problems early is the best way to improve their outcomes."
Working with Tech Licensing
Krieger credits the ability of Meet Alex to address this and future healthcare needs, in part, to the collaboration between Krieger and her team and UF Innovate | Tech Licensing. Krieger worked with Kuchma to develop Meet Alex into a useful tool.
"Coming from the STEM Translational Communication Center gave Janice [Krieger] a unique perspective on how to pull all the factors together," said Kuchma.
The award is significant to her entire team, Krieger said.
"To me, it is a recognition of our community advisory board members, faculty, students, trainees, and patients all working together to make a better tomorrow."
Krieger had never heard of UF Innovate | Tech Licensing until she was encouraged by her colleagues in Computer and Information Sciences and Engineering to meet with Kuchma. Prior to that meeting, Krieger was doing research on how to reach patients and encourage better health. Brainstorming with Kuchma landed on a way to use all of her hard work and turn it into impactful healthcare technology.
"Our mission is to get the great discoveries from faculty out to the world," said Kuchma. "It's a chance to make an impact on society."
---
Maja Aganovic is a marketing intern at UF Innovate | Tech Licensing. A senior at the University of Florida, Maja is a pre-med student majoring in nutritional sciences and minoring in business. She has served as a study coordinator in Dr. Henkens' lab, responsible for organizing, recruiting, and gathering content for a study in intestinal permeability. She is on track to graduate this spring.