Acquisition of UF Faculty Startup AbFero Provides Iron Chelators for Numerous Diseases
Removing excess iron may provide therapeutic relief for macular degeneration, Parkinson's, and more
Late last week, Danish biotech Pharmacosmos announced it had acquired AbFero Pharmaceuticals, a University of Florida startup, for $225 million. AbFero is developing compounds called iron chelators created in Dr. Raymond Bergeron's lab at UF. Chelators remove extra iron from the body.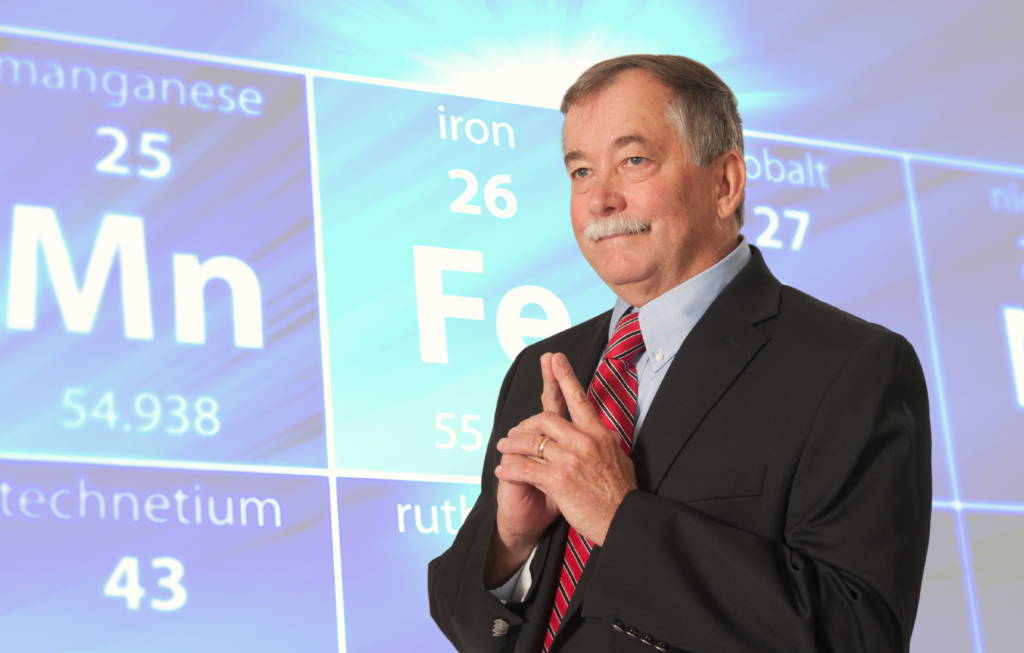 "It's always exciting to see a UF faculty's startup get acquired by a large company that will be able to take this platform technology to market," said Jim O'Connell, assistant vice president of commercialization at UF and the director of UF Innovate | Tech Licensing. "What makes this exit exceptional is that UF Innovate | Ventures invested part of its inaugural fund into AbFero because the technology is so important."
Pharmacosmos has three drugs approved to treat iron deficiency in humans. In contrast, AbFero is dedicated to treating diseases of transfusional iron overload. The startup's lead candidate, SP-420, has completed Phase I safety studies, but the purchase provides the Danish company much more than a single drug or platform.
"We're giving them a pipeline of platforms from which they can choose a therapy – plus all the animal data that support what we've found," said Bergeron, who joined UF in 1979 as an associate professor in medicinal chemistry. "We're not handing over a bottle of crystals that does one thing. We're handing them the potential to treat children with iron overload and so much more."
SP-420 belongs to a class of orally active iron chelators called desferrithiocins that reach target organs with greater efficacy and higher tolerability than three currently available FDA-approved chelators on the market. AbFero's compounds also cross the blood-retinal and blood-brain barrier, enabling their use in macular degeneration and Parkinson's disease.
A number of different diseases, such as macular degeneration and Parkinson's, implicate iron overload, and some therapies for disease cause iron overload. Thalassemia, for instance, is an inherited blood disorder in which the body doesn't make enough hemoglobin. Patients often require frequent blood transfusions, making them prone to developing systemic transfusional iron overload.
Bergeron said the compound could benefit traumatic brain injury, too.
"When you sustain a traumatic brain injury, bleeding occurs. The dying red cells in the brain release iron which causes profound damage. Unfortunately, almost nothing gets across the blood-brain barrier," Bergeron said. "But our iron chelator does, offering a chance to remove the offending iron."
Bergeron envisions a day when the military going into hot zones will use it prophylactically. Even adults or children playing contact sports may consider this option.
Bergeron has generated a large number of composition-of-matter patents and use patents related to this technology.
---
By Sara Dagen, marketing & communications manager, UF Innovate