University of Florida Innovators Honored at 4th Annual Standing InnOvation Event
William Hauswirth honored as Innovator of the Year for his work in gene therapy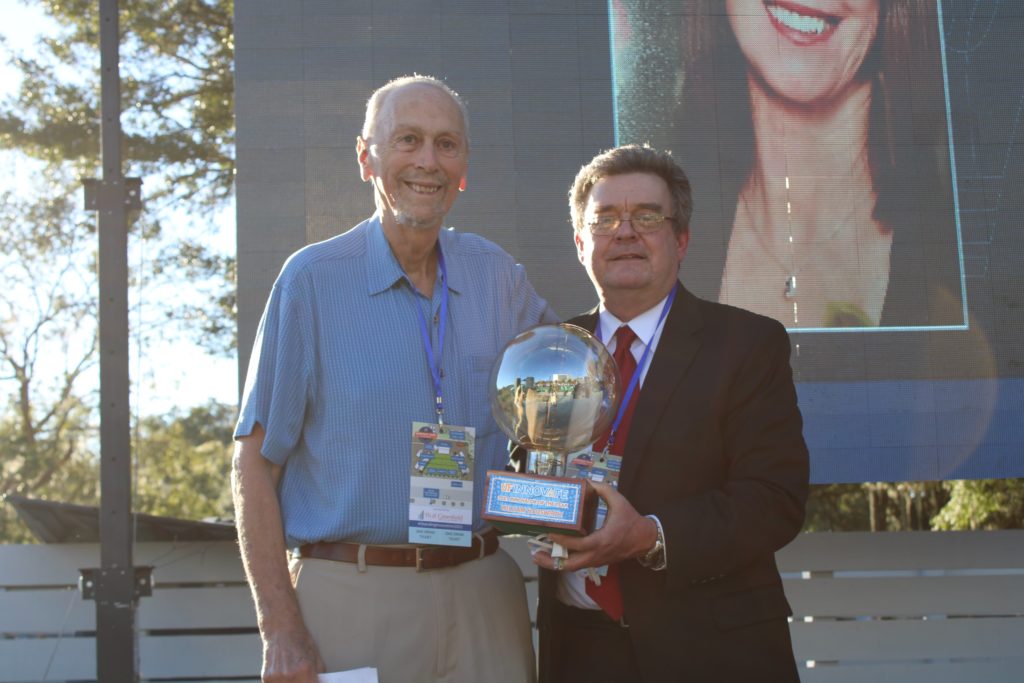 Gainesville, FL – On a sunny and fresh fall afternoon, UF Innovate | Tech Licensing hosted its annual event to recognize top innovations stemming out of the University of Florida. More than 150 innovators and entrepreneurs attended the in-person event, and around 40 joined the livestream to celebrate their achievements in fiscal year 2021.
The event started inside UF Innovate | Accelerate @ The Hub, where a new illustration, 42 feet by 10 feet, replaced the mural original to the building. The mural depicts technologies and startups birthed at the University of Florida. (Details on the mural unveiling here.)
After the mural's unveiling, guests were invited to walk next door to Midpoint Park & Eatery, a food truck park located at the heart of Gainesville's Innovation District. The modern, outdoor space was the perfect scene to announce the innovator and innovations of the year.
Dr. David Norton, vice president for UF Research, introduced the Innovator of the Year, Dr. William Hauswirth, a UF researcher and pioneer of AAV gene therapy.
"Today I have the pleasure to introduce one of our superstars here at the University of Florida," said Dr. Norton while he introduced Dr. Hauswirth to the stage. "His work at UF's Department of Ophthalmology in the College of Medicine resulted in the first FDA-approved gene therapy that cures blindness."
Dr. Hauswirth has been a UF innovator since 1975. He is an inventor in more than 300 patent application filings around the world. He also co-founded UF startup and Sid Martin Biotech graduate AGTC, a company focusing on using gene therapy for ocular disease, neurodegenerative diseases and otology. The company, located in Alachua, is conducting clinical trials.
"In other words, his body of work is enormous, and the result of that work touches the lives of people around the world," concluded Dr. Norton.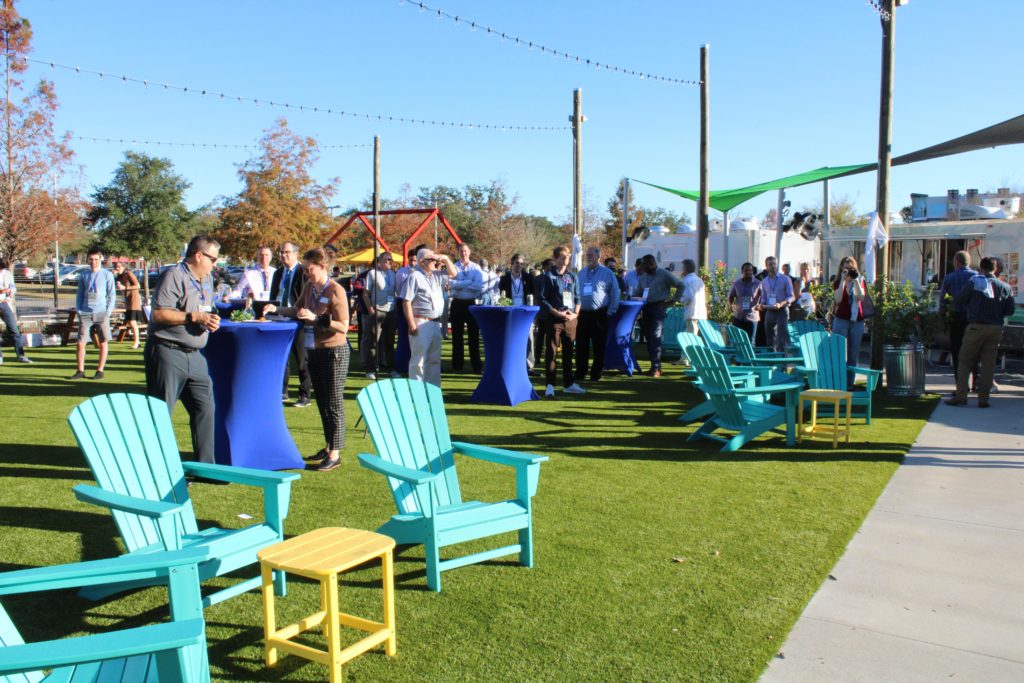 In addition to the Innovator of the Year, Jim O'Connell, assistant vice president of commercialization at UF and director of UF Innovate | Tech Licensing, introduced seven innovations of the year selected by the licensing teams out of 285 inventions disclosed in fiscal year 2021.
"These seven inventions and their innovators will impact the world in 20 years," said O'Connell, as he began to introduce the awardees.
Intratumoral Type I Interferons Sensitize Response to Checkpoint Inhibitors
Dr. Elias Sayour, a pediatric oncologist at UF's College of Medicine and UF Health, developed an immunotherapy that uses the immune system to fight cancer. The immune system educates against the child's cancer, and it can remember that cancer for life, providing continual protection. His team includes Drs. Hector Mendez-Gomez, Sadeem Qdaisat, Brandon Wummer, and Duane Mitchell.
Computer and Information Sciences and Engineering Department Chair Dr. Juan Gilbert was concerned about people standing in line waiting to vote on the 2020 elections in the middle of the COVID-19 pandemic. This inspired him to create a technology that could mitigate the situation and make it safer with a ticketing system that would tell an individual when to return to vote instead of waiting in line.
Gatorbulins – Novel Microtubule Destabilizing Agents
Hendrik Luesch, professor and chair for UF's department of medicinal chemistry in the College of Pharmacy, discovered a marine organism that produces a compound that can fight cancer. This technology could be a crucial anti-cancer drug candidate in the near future.
Stable Magnetic Cryopreservation Agents and Long Circulating Blood Pool Imaging Agents
Dr. Carlos Rinaldi-Ramos, chair in the chemical engineering department, and Dr. Andreina Chiu-Lam created a technology that could cryopreserve an entire organ. They modified magnetic nanoparticle coatings to improve stability in harsh cryopreservation environments where particle aggregation can prevent penetration deep into the organ for subsequent uniform rewarming.
Clear Single-Use Passive Perfusion Enabled 3D Bio-Reactor Well Plate for Cell Culture and Experimentation
Mechanical engineer Dr. Greg Sawyer works with micro tumors created from real cancer material. He invented a 3D culture system that is accessible and easy to use, and it allows researchers to do the work in their own laboratory environments. His team included Drs. Ryan Smolchek, Juan Uruena Vargas, Jack Famiglietti, Duy Nguyen.
Adaptive Olfactory Measure of Threshold (ArOMa-T)
Dr. Steven Munger, director of the Center for Smell and Taste at UF, found a better way to screen for smell loss by creating the ArOMa-T. This simple, inexpensive test allows a person to self-assess and identify dysfunction in the sense of smell.
Precision Health Interventions Using Virtual Clinicians
UF's College of Journalism and Communications professor, Dr. Janice Krieger, and a multidisciplinary group of UF researchers created ALEX, a virtual health assistant that delivers precision messages to the diverse population in Florida. The virtual clinicians replicate real-life movements of what will occur in face-to-face interactions.
The event, sponsored by Wolf Greenfield Intellectual Property Attorneys, concluded with a cocktail celebration and refreshments provided by Taste Elegant Catering and Midpoint Park & Eatery food trucks MexiCocina and Plantology.
---
About Standing InnOvation:
Standing InnOvation is an annual event to honor University of Florida innovators who have disclosed, licensed, or optioned a technology in the fiscal year just ended. The name of the event intentionally hints at giving a "standing ovation" to UF "innovators" for the work they have done. The event is also a reminder of the "standing invitation" inventors have to work with UF Innovate | Tech Licensing, which protects and licenses research discoveries.
About UF Innovate | Tech Licensing:
UF Innovate | Tech Licensing works with innovators, entrepreneurs, investors and industry partners to maximize the potential of University of Florida innovations through commercialization for the global good. In fiscal year 2020, Tech Licensing received 393 invention disclosures, executed 132 commercial transactions and launched 16 companies. In 2017, the Milken Institute ranked the University of Florida third in the nation for its tech commercialization efforts. In 2020, the George W. Bush Institute and the Opus Faveo Innovation Development consulting firm, named UF the most productive large university in the country at leveraging its research funding into new companies, new jobs and new ideas.
Media contact:
Sara Dagen
UF Innovate
Marketing & Communications Manager
saradagen@ufl.edu
(352) 294-0998
---
By Veronica Talavera, Public Relations Specialist, UF Innovate