3D-Printed Model Mimics Spinal Cord Injury to Aid Research
Includes biochemical compositions and mechanical properties of natural spinal cords with structural integrity
A unique collaboration between two University of Florida engineering departments has produced a valuable and holistic 3D model of spinal cord injuries.
UF researchers Dr. Christine Schmidt and Dr. Thomas Angelini combined their engineering expertise to create a 3D-printed model that mimics spinal cord injuries. This device enables researchers to determine the progression of spinal cord injury and potentially find a cure.
According to the American Association of Neurological Surgeons, 17,000 new spinal cord injury cases occur in the United States annually, at a cost of $9.71 billion each year. Researchers believe that biomaterials are a key tool for understanding and potentially repairing spinal cord injury.
Disclose your invention here.
Angelini is an assistant professor in the Department of Mechanical and Aerospace Engineering, where he studies mechanical instabilities in tissue cell assemblies and leads the Soft Matter Research Lab. Schmidt is a Pruitt Family Professor and Chair in the Department of Biomedical Engineering, where she focuses on biomaterials for neural tissue regeneration and neural interfacing.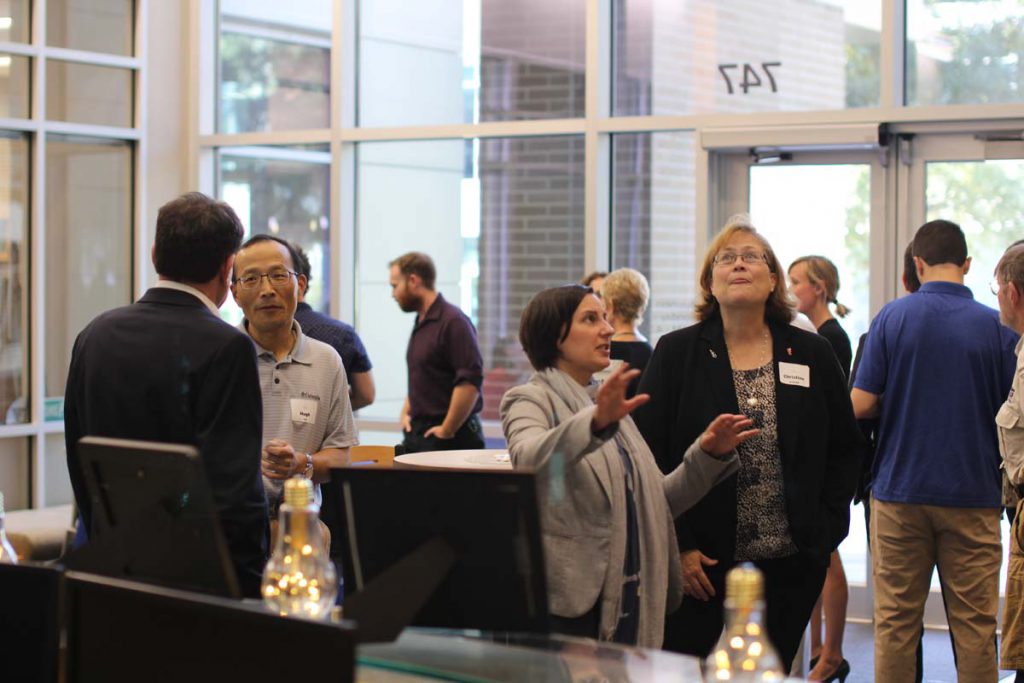 ---
Their collaboration to create a 3D-printed model that mimics spinal cord injury provides a new way to understand what takes place during the process.
"The goal is to have a visual, for example five weeks post-injury, of what the spinal cord would possibly look like at that point in time." Schmidt said.
The team's model is made by printing the 3D structure inside a support medium. It serves as both a support for 3D bioprinting and a 3D culture environment. The model also includes soft hydrogels; they will have spatially defined biochemical compositions as well as the mechanical properties of natural spinal cords with structural integrity.
Rachel Harding, UF Innovate | Tech Licensing technology licensing officer, worked with Angelini and Schmidt to secure a license. She believes the technology is a potent tool for the biomaterial industry.
"The 3D printed models of spinal cord injury allow wide representation of types of spinal cord injury at different times post-injury," she said. "The biologically relevant material being printed allows testing of new therapies with the potential to improve patient outcomes."
Schmidt said the collaborative nature of bringing two labs together from different backgrounds provides a valuable and great experience for the students. A mechanical engineering student and biomedical engineering student can work side by side to develop the biomaterial as well as learn from each other.
"Dr. Angelini has amazing 3D technology, and we bring in spinal cord injury expertise," Schmidt said. "We can test fundamental questions like how cells respond to what is going on at a stage of the injury."
The researchers noted that there are not a lot of in vitro analogs in the market. They hope in the future they could make a transition to in vitro modeling to test different drugs as possible interventions for spinal cord injury.
"The hope would be that we could profile a patient, and we can say that a person has a particular distribution of fragments of these molecules that indicates the state of their injury," Angelini said. "Then we could possibly come up with targeted intervention to stop the progression of damage."
---
Written by Denielle Smith, marketing intern at UF Innovate | Tech Licensing. Denielle graduated with a bachelor's degree in biomedical engineering from the University of Florida and plans to pursue her master's degree at Cornell beginning this fall.