Pain Assessment Management Initiative Balances Pain Relief and Safe Prescribing of Medications
Each day more than 140 Americans die from drug overdose. Millions more struggle with opioid addiction. The Department of Health and Human Services says the opioid epidemic is the worst drug crisis our nation has ever faced. In the midst of this crisis, health care professionals must balance pain relief and care with safe prescribing of medications. Untreated acute pain often leads to chronic pain.
"Twenty million American adults live with high-impact chronic pain, or pain that frequently limits life or work activities," reports the American Pain Foundation.
Evidence suggests that key reasons for under-treatment of pain are fear of causing opioid dependence and limited knowledge of nonopioid and nonpharmacologic pain management options. One University of Florida researcher noted the lack of pain education and patient resources available, especially when managing high-risk populations such as older adults, children, prehospital, and trauma patients.
Dr. Phyllis Hendry, a pediatric emergency medicine physician and professor with the UF College of Medicine – Jacksonville decided to do something about it. In response to the pain she saw, Hendry created the Pain Assessment Management Initiative, or PAMI, to improve pain management in children and adults. Since it launched in 2014, this program has expanded to multiple settings, including hospitals, clinics and emergency rooms.
Hendry, who serves as Associate Chair of Emergency Medicine Research, developed a multidisciplinary team, including her coinvestigator, Dr. Sophia Sheikh, an emergency medicine and toxicology physician and assistant professor in the Department of Emergency Medicine. Both physicians had a lot of inspiration from their patients. Hendry also experienced friends and family members struggling with the management of their chronic and acute pain.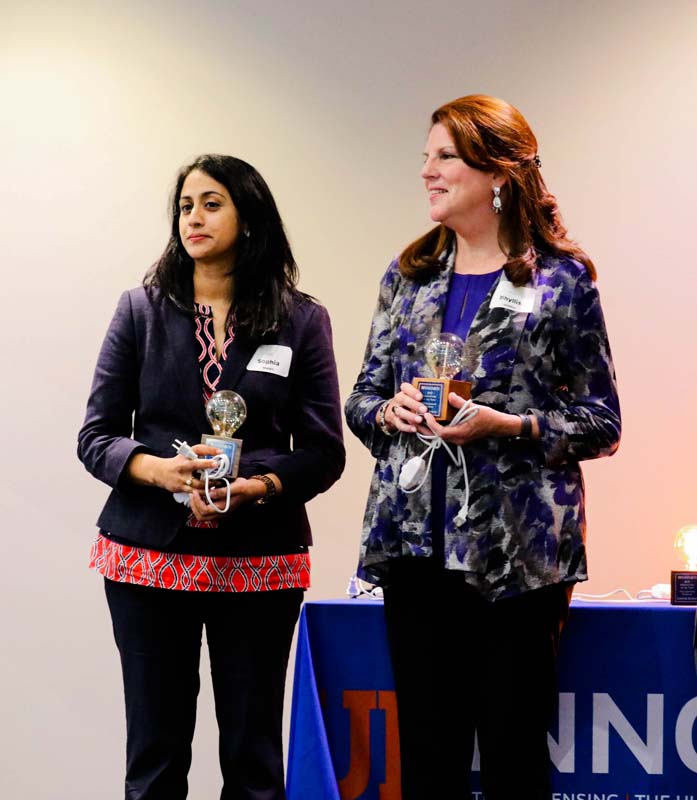 ---
Overall the mission of PAMI is to advance innovation and safety in pain education, patient care, and research. The program acts as a repository of resources to help clinicians and patients safely manage pain including free online access to a variety of products: online learning modules, PAMI Discharge Planning Toolkit, Pain Management and Dosing Guide, and PAMI Nonpharmacologic Toolkit.
"These are much-needed nonpharmacologic, non-opioid-based pain management products that improve pain outcomes and reduce opioid risk," said Anita Rao, Assistant Director of Life Sciences at UF Innovate | Tech Licensing, who works to license technologies created by UF researchers.
Each PAMI developed product has its own user-friendly instructions and can be adapted to different settings and scenarios. The PAMI Nonpharmacologic Toolkit contains a Distraction Toolbox with a variety of physical and sensory distraction aids, virtual reality materials, and pain communication cards. The communication cards assist in assessing pain, especially with non-English speakers or non-verbal patients.
The PAMI Discharge Planning Toolkit contains an algorithm to assist providers in developing a safe pain plan, 15 patient instructional handouts, and 4 educational videos providing tips for patients to manage pain after discharge. The Pain Management and Dosing Guide provides a stepwise approach to managing acute and chronic pain with pharmacologic and nonpharmacologic options and dosages.
Hendry is very enthusiastic about the PAMI team's work and finds great reward in helping her peers build better communication with their patients.
"It's the best thing when I get a call or email from a provider and they share their positive experiences with a patient using our products or distraction toolbox," Hendry said. "I've also received calls from those who work with children or adult autistic patients, and they have shared the significant difference our resources have made for them."
The latest addition to the team's work includes a focus on older adults with the advent of the Aging and Integrative Pain Assessment and Management Initiative, or AI-PAMI led by Dr. Sheikh.
"We know older adults are at increased risk of adverse events when taking opioids," Sheikh said. "PAMI can be a conduit for providing integrative pain management options to reduce this risk and help this population have an improved quality of life."
With PAMI, Hendry and Sheikh hope to reduce opioid reliance, provide safe and effective pain management options, and improve patient-provider education and access to resources.
For more information about PAMI, visit pami.emergency.med.jax.ufl.edu or connect with the team on LinkedIn and Facebook.
---
Written by Denielle Smith, marketing intern at UF Innovate | Tech Licensing. Denielle graduated with a bachelor's degree in biomedical engineering from the University of Florida and plans to pursue her master's degree at Cornell beginning this fall.